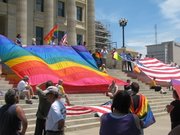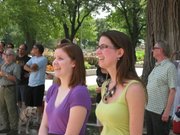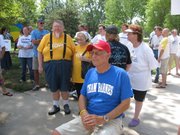 Topeka — Led by gay and women's rights groups, about 150 people rallied on the Statehouse grounds Saturday, criticizing the policies of Gov. Sam Brownback.
Meanwhile, Brownback was in Houston, participating in a high-profile prayer event put on by groups opposed to gay rights and abortion.
At the Capitol rally, Dan Manning of Wichita, who was kicked out of the military for being gay, blasted Brownback for associating with people "who are praying for our demise."
"The God I know is a God of love and wants each and every one of us," Manning said. "I have a message for Governor Brownback: We are not going away."
The rally was called by the Kansas Equality Coalition and the Kansas chapter of the National Organization for Women as "A Celebration of the First Amendment" in response to police interference during separate events that the groups had at the Capitol in June.
'Time for us to pray'
The rally took on added significance, occurring on the same day that Brownback attended "The Response," a prayer event at Reliant Stadium that was called by Texas Gov. Rick Perry and hosted by groups that have been outspoken opponents of gay rights and abortion rights.
Brownback was the only governor to accept Perry's invitation, and Brownback's staff said the governor would pay his own way there. But after publicity increased about the anti-gay sentiments of some of the groups, Brownback's staff refused to confirm whether he was going.

But Brownback did attend, spoke briefly and offered a prayer. He also embraced Perry, who is considering running for the Republican nomination for president, onstage.
Brownback's office later released a statement in which Brownback said leaders prayed during the Revolutionary War, Civil War and during civil rights fights.
"We are in a difficult time again for our nation; now it is time for us to pray," he said.
At the Statehouse rally, Thomas Witt, chairman of the Kansas Equality Coalition, said, "I wonder if we're going to see a Perry-Brownback ticket."
Those attending the rally at the Statehouse criticized Brownback over several issues, such as signing into law several anti-abortion measures, vetoing state arts funding and planning the closure of the state welfare agency office in Lawrence.
Lawrence sentiments
Several Lawrence residents attended a prayer vigil in Lawrence earlier Saturday to support keeping open the Kansas Department of Social and Rehabilitation Services office, and then drove to Topeka for the rally.
Two of those were Jake and Masha Kipp. Jake said Kansas has a tradition of moderate Republican and Democratic governors "who represent all the people, but this governor doesn't."
Richard Sengpiehl of Lawrence said he was also upset about Brownback's decision to close the SRS office.
"It's a question of priorities. His priorities haven't been mine," he said.
Brownback and SRS Secretary Robert Siedlecki Jr. have said closing the office is needed to cut costs, but local advocates say it will result in vulnerable Kansans losing needed services.
Kaylyn Wright and Leslie Goodwin, two Kansas University seniors, also attended the rally, saying Brownback's approval of a bill establishing abortion clinic regulations and licensing prompted them to form a pro-choice organization called Speak for Choice.
They said the law, which has been challenged in federal court, has nothing to do with protecting health but is designed to shut down clinics.
No police disruptions
The rally was initially called after Capitol police got involved in two earlier events.
During a rally June 24 on the Capitol grounds, police blocked members of the Kansas Equality Coalition from carrying U.S., Kansas and rainbow flags, saying that the flagpoles could be used as weapons.
News reports later showed that groups in the past had been allowed to bring flags on the Statehouse grounds.
On June 1, police interfered with a National Organization for Women news conference, saying that three spare tires that were being used as a prop had to be removed. The prop was in response to remarks by state Rep. Pete DeGraaf, R-Mulvane, who compared purchasing separate abortion insurance with carrying a spare tire in his car in case he had a flat.
On Saturday, there were no police outside monitoring the event. The groups unfurled large U.S. and rainbow flags.
Kurt Schueler, chair of the Lawrence-Douglas County chapter of the Equality Coalition, said he wanted to make sure that no one's rights were limited.
"We will not sit back and take it. We will not be denied our rights," he said.
Copyright 2018 The Lawrence Journal-World. All rights reserved. This material may not be published, broadcast, rewritten or redistributed. We strive to uphold our values for every story published.