Photo Gallery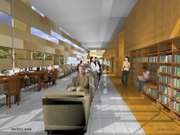 Updated Lawrence Public Library expansion renderings
How many spots will the new parking lot have? Where will the restrooms be? Will the building withstand strong winds and tornados? Where can I plug in my laptop? Any plans for a wind turbine? Has a feng shui expert been consulted?
There was no lack of questions Saturday at a Lawrence Public Library forum on the recently released architectural designs for the library expansion.
"I think we're getting a lot of feedback," said Jane Huesemann, a project manager with Gould Evans, the firm designing the renovations.
About two dozen people sat through an hour-long presentation at the library on renovation designs. The forum was an opportunity to get more information about the plans, which were unveiled two weeks ago at a similar forum.
Designers had answers for some questions, but not others, displaying the fluidity of some of the features of the $19 million expansion approved by voters last year.
Lawrence mechanic Austin C. Turney was one of several people with numerous questions.
Turney said that the presentation was informative and that he understood the design "a lot better than before."
Public forums will continue throughout the design process, Huesemann said.
So far, the project is 15 percent complete, she said. The next steps will be solidifying the design and starting a construction bidding process in early summer 2012. Once crews break ground on the project, the work will take about two years, she said.
Copyright 2018 The Lawrence Journal-World. All rights reserved. This material may not be published, broadcast, rewritten or redistributed. We strive to uphold our values for every story published.