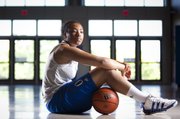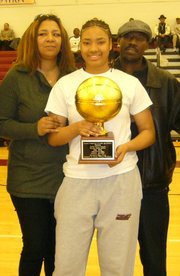 Two hours after she graduated on June 6, Asia Boyd's journey from Detroit to Lawrence began on a Greyhound bus.
The long trip wasn't fun. Upon waking up, there were times the 6-foot-1 Kansas University freshman guard noticed that a stranger would be staring at her.
Boyd — the No. 39 player in the class of 2011, according to ESPN HoopGurlz — was originally going to drive down in a rental car with her mother, Alanna, but plans changed at the last minute. Alanna was between paychecks, and the cost became too expensive.
Like it has so many times before, the Boyd family made the best of a tough financial situation.
After borrowing some money, Alanna helped Asia book a $183 ticket to make it to college.
"Through life experiences, I kept reminding (my children), 'Do not forget what the hell we've been through. Please,'" Alanna said. "It's been rough."
---
The Boyd family always has figured out a way to make it through tough times in Detroit, starting in 2003 when Alanna was involved in a car accident.
Though she was experiencing pain, things turned worse late one night when one of the discs in her back popped out, paralyzing her temporarily from the waist down.
Alanna was rushed to the hospital for emergency surgery.
Afterward, Asia wouldn't let her take it easy. Following classes and workouts, she'd return home to make sure to get her mom moving at least a half hour a day.
The training worked. Soon, Alanna strengthened herself to the point she was walking again.
Another setback came in 2005.
Asia's father, Shawn Sr., who loaded trucks for Sysco, noticed after returning home one day that the right side of his back was out of alignment.
The work-related injury — which involved four of the lower discs in his back — left him unable to work and forced him into disability.
Even now, he has to take an extended break after staying on his feet too long.
The family's financial problems became worse two years ago, when Alanna was laid off from her medical-billing job.
The family of six was forced to live off Shawn's disability — which totaled $18,000 per year.
The Boyds' living situation became scrambled. After losing their home, they rented from three locations before eventually purchasing a land-contract house.
When the family moved in, there were no pipes, sinks or toilets; they had to furnish it all themselves.
When a brother-in-law lost a property, Shawn and Alanna moved quickly to grab the useful parts.
"The crackheads were breaking in and stripping his house. They were already taking pipes out," Alanna said. "I had to go in faster than the crackheads to strip this house for what was in it."
Without a moving truck, the two loaded up a stove, refrigerator, toilets, sinks, faucets, mirrors and medicine cabinets and hauled them to their new home.
Alanna also helped stock the house by dumpster-diving. When one woman moved out nearby, she told Alanna she was free to take anything that was put out by the trash.
The family took in four couches, a bankers desk and lamps, among other things.
It still was a struggle.
There were multiple times when the family's power would go out because they couldn't keep up on payments.
Whenever Asia needed to work on a computer for homework, she had to go to a friend's house.
There were times the family also relied upon church donations for food.
When the gas was turned off, the family had to get creative. They'd eat hamburgers and hot dogs in the winter, because they'd be able to grill those foods on the barbecue outside.
When they were without power, they'd also end up cooking food on their kerosene heater, which was warm enough to bake fish and vegetables like broccoli.
"I'm not saying that any of this is easy," Alanna said. "But I am saying you can live through it. It's not the end."
Just when they were finally starting to rebuild — and after Alanna started a new job with GM's OnStar in-car communications — the family faced their toughest challenge yet.
---
It sounded like the ruffling of papers.
Alanna Boyd was sleeping next to her youngest daughter and son when the crackles in her bedroom finally woke her up.
Her mind went to the candles, which were being used to light the house in the days after the electricity had been shut off.
When she opened her eyes, it was too late: The wall, ceiling and dresser were in flames.
Alanna woke up her children, then tried to figure a way out of the second-story room.
The door was ablaze with no doorknob, while the burning of the TV in the room produced nasty fumes.
With few other options, Alanna grabbed the burning door with her bare hands and tugged on it. It stuck for a while before swinging open.
She threw a blanket over her 5-year-old son, Shawn Jr., and carried him out while also leading her 11-year-old daughter, Jada, through the smoke.
Barefoot, Alanna made her way through the house and across the street with her two children.
Four fire trucks arrived, putting out the flames and also the house's windows in the process.
With Alanna crying across the street, a couple of firefighters approached her.
They'd noticed a familiar face in a picture on the mantle — the city's recently crowned best high school basketball player.
"Are you Asia Boyd's mom?"
---
Asia was at a friend's house on the February night her mom called her to tell her about the house fire.
She immediately dialed up Renaissance High coach Diane Jones, who drove across town to pick Asia up.
The two entered the house by themselves to see what they could save.
Asia's burgundy letterman's jacket was black and needed dry-cleaning. A few pairs of jeans, a couple of tops and some basketball awards were about the only other items that were salvaged.
Asia was most worried about her black, Nike basketball bag, which was smoke-damaged and dirty.
When they opened it, her basketball, equipment and two new high school jerseys — white and maroon — were spotless.
Later that morning, Jones made a selfless offer: She volunteered to take Asia into her own home so she could remain focused on her schoolwork and basketball.
Asia's parents agreed, while the other three children moved in with Alanna's sister.
It wasn't easy.
"The rock bottom was, the kids couldn't even live with me," Alanna said. "That was something I was very proud of in a city where there's high-crime, high this, that. ... I was very proud of the fact that we were a happy, whole family, no matter where we were at."
At first, it wasn't a smooth transition for Asia.
Though she had her own bedroom and bathroom at Jones' house, the rules were much more strict. Jones told Asia she had to make her bed in the morning and clean her bathroom regularly — chores she wasn't used to.
Not only that, Asia had a curfew and also had to check in with Jones when she was going to different places with her friends.
"Once we got it together, we pretty much gelled," Asia said. "But in the beginning, it was tough."
---
Meanwhile, Asia's parents continued to stay in their own house, which had smoke damage from the fire but hadn't been harmed structurally.
When they returned to the house after going to the American Red Cross, they'd noticed the front door was open, as contractors had come through to see the damage.
After that, Alanna felt like she couldn't leave her home.
"What was left of it, I didn't want to lose any more," Alanna said. "So I told my husband, 'I can do it if you can do it.' I don't give up."
The two remained in the house and began to clean up.
Water damage had soaked to the basement of the three-story home. Because it was February, that water had frozen on the ceilings, light fixtures and floors by the next day.
The fumes in the house were so bad the two would go back and forth from sleeping in the house to sleeping in their car out front.
They also stayed without electricity, gas or water. The two would take buckets from people they knew, fill them with water, then bring them into the house.
They also relied on bottled and donated water. For showers, they'd go to Alanna's sister's house 2 1/2 miles away.
There were times when Alanna's car wasn't working or didn't have gas. Alanna would walk to the laundromat to do laundry, and also would sometimes walk to McDonald's a mile away to use the bathroom or to charge her phone in an outlet.
Through it all, Alanna said she'd call Asia for support.
"I would be crying some days, and she's always my calm person," Alanna said. "'Mom, it's going to be OK. We can get through this, too.'"
Slowly, the Boyds are rebuilding their home.
The water is back on, and the family is hoping to have all the wiring for the lights and gas to be fully completed in the next few months.
Their two youngest children also moved back into the house in June.
"That's the good thing about the citizens here in Detroit. They helped us out, because a lot of it was really unaffordable," Shawn Sr. said. "We couldn't have done it by ourselves."
Now, the family is ready to see what Asia can accomplish at KU.
---
It's been an adjustment for Asia during her first weeks in Lawrence.
She said she isn't used to so many meetings. Coach Bonnie Henrickson has teased her that she won't be able to take as many naps here as she's used to.
Still, the coach has seen flashes of what Asia — who was at one time looked at by both UConn and Tennessee — can do during practices.
"She's made plays here, and she doesn't even know what she's doing," Henrickson said, "because she's just a big kid who can be aggressive."
On their official visit to campus with Asia, both parents told Henrickson to keep their daughter in line. Shawn Sr. even gave the coach permission to "scream, cuss or fuss" to make sure she was focused.
Asia hasn't let distractions get in her way so far.
"I'm just staying grounded and humble, and now I'm here," Asia said. "Hopefully, I can make something of this."
Copyright 2018 The Lawrence Journal-World. All rights reserved. This material may not be published, broadcast, rewritten or redistributed. We strive to uphold our values for every story published.