Photo Gallery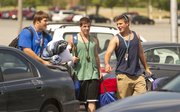 KU football players arrive on campus
Some carried extra blankets and pillows, while others hauled in televisions and video-game systems, and a couple even teamed up to transport a mini-fridge into their temporary homes.
Yep, it's that time of year again, and Wednesday the entire Kansas University football team reported on time and in style to the Jayhawks' preseason football camp.
The first players arrived at Naismith Hall around 3:15 p.m., about 30 minutes ahead of the time they were scheduled to check in. Freshmen Brock Berglund, a quarterback from Highlands Ranch, Colo., and Victor Simmons, a defensive back from Olathe, were the first players to arrive with all of their necessities for the next couple of weeks.
A little more than an hour later, red-shirt freshman Jimmay Mundine was the last Jayhawk to check in, wielding a duffle bag, a pillow and a huge smile.
The scene looked a lot like the first day of junior high school. Old friends were reacquainted, new friends slapped fives, and a certain energy and excitement hung in the air.
While Wednesday's activity marked the first official day of the 2011 season, the Jayhawks weren't all business all the time.
Red-shirt freshman wide receiver Connor Embree was overheard brokering a bold request of senior cornerback Isiah Barfield.
"Are you gonna do my laundry this week?" Embree, a transfer from UNLV, asked Barfield.
Judging by the silence that followed, it's probably safe to assume Embree will be handling his own chores.
When another young Jayhawk wondered aloud if he was supposed to have brought different clothes, junior cornerback Greg Brown did not hide his disappointment.
"He brought Xbox, a TV and no clothes," Brown said as he rolled his eyes.
Most of Wednesday's ribbing was done in good fun, and it came from the players most would expect.
Seniors Daymond Patterson and AJ Steward, stars of the Internet reality series "DP and AJ Take On KU," had plenty to say as they arrived. Steward sought out anybody and everybody to make sure all were ready for today's first official practice, and Patterson, last year's leading receiver, called people out, just as he has done throughout the summer on the series.
Tunde Bakare, a linebacker who transferred to KU from Highland Community College, checked in with checkered pajama pants and a tank top. Patterson could not believe it.
"It's 3 o'clock, bro," Patterson shouted in Bakare's direction. "Time to take off the pajamas."
While the Jayhawks arrived in a variety of different vehicles and with several different types of music, few came in with the style of safety Ray Mitchell, a red-shirt freshman from MacArthur High in Irving, Texas, the same school that produced KU running back James Sims.
Mitchell not only made the loudest entrance, with his beats blaring from his silver car, he also had the longest route to his room as nearly a dozen teammates made sure to greet KU's 2010 scout-team special-teams player of the year.
Now that they're all checked in, the Jayhawks will hit the practice fields at 2:45 p.m. today for the season's first official practice.
NCAA rules dictate teams cannot put on pads until the third day of practices, so drills today and Friday will be held in shorts, practice jerseys and helmets.
In addition, teams are not allowed to conduct two-a-day practices during what's known as the "acclimation period," which runs through Tuesday.
KU's first run of two practices in the same day is scheduled for Wednesday.
Copyright 2018 The Lawrence Journal-World. All rights reserved. This material may not be published, broadcast, rewritten or redistributed. We strive to uphold our values for every story published.