Photo Gallery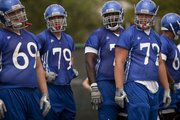 KU Football Practice
Images from the Jayhawks' first practice on Thursday, Aug. 4, 2011.
Kansas University freshman Brock Berglund, a 6-foot-4, dual-threat quarterback from Highlands Ranch, Colo., who has been in and out of Lawrence since graduating from Valor Christian High last December, was at KU's first practice Thursday and went through drills with his new team.
While he finally found his way onto the field, Berglund's initial stint with the Jayhawks ended as quickly as it began.
"Brock Berglund reported for preseason camp (Wednesday), very much looking forward to preparing for the upcoming season," KU coach Turner Gill said. "He received a call later in the day, however, regarding the legal issue he has been involved in over the past few months. After discussing the matter, he and his family reluctantly determined that Brock should go home to address the issue. He will return to Lawrence as soon as circumstances allow. We very much look forward to his return so that he can help himself and his teammates prepare for the season."
Asked how Berglund looked during his first day with the team, Gill said: "He was OK, just like everybody else. There were whole bunch of people out there who were OK, and he falls in that category."
Gill said Berglund would miss practice today but did not specify his availability beyond that.
"He won't be here (Friday)," Gill said. "He could be here the next day or whatever, but they're gonna do what they have to do."
Berglund has been charged with third-degree assault in Douglas County, Colo., for an alleged incident that took place in April.
Through his attorney, Berglund has adamantly denied the accusations and said he remained committed to playing football for Gill and the Jayhawks.
Gill responds to Twitter ban
At the first official team meeting of the season Wednesday night, Gill informed his players that they would not be allowed to run their Twitter accounts during the season.
Thursday, KU's second-year coach explained why.
"Our staff talked about ways to continue to move our program forward," he said. "Somebody brought up the issue of Twitter and how it can be a distraction. We are not allowing our student-athletes to have Twitter accounts because we believe that (players using Twitter) will prevent us from having enough preparation for our football program."
Almost blonde
Sophomore quarterback Jordan Webb was one of a few Jayhawks sporting a different hair color at Thursday's first practice.
"Some of the O-linemen were doing it, and they kind of talked me and Kale (Pick) into doing it so we kind of stuck with the O-linemen," Webb said.
Asked if blond was the color he was going for, Webb said: "We were trying, but I guess the Naismith beautician didn't quite do it for us. You can blame that on Quinn."
That would be Quinn Mecham, a senior QB from Provo, Utah, who apparently avoided the peer pressure of the linemen and was able to keep his black hair.
Players change positions
A couple of returning Jayhawks moved positions in the offseason, as linebacker Ed Fink, a red-shirt freshman from Belleville, Ill., and offensive lineman Michael Martinovich, a senior from Tulsa, Okla., had been moved to fullback and defensive tackle, respectively.
Gill said Fink moved to give the Jayhawks more depth at fullback, where Nick Sizemore and Josh Smith also play.
"Fullbacks are going to have a lot of collisions," Gill said. "And we just want to make sure they will be able to last the entire season. We wanted to make sure that we'll be able to have depth at that position to make sure everyone is fresh throughout the game and throughout the season."
As for Fink's ability, Webb said his new fullback made one of Thursday's most impressive plays, reaching back over a defender to make a catch on a ball thrown behind him.
"I asked him last night if he's ever carried the ball, and he said, 'Well, yeah, in junior league,'" Webb said of Fink. "But he's a good athlete and he really surprised me."
Senior TE earns scholarship
Gill said senior Ted McNulty, a 6-5, 235-pound tight end from Iowa City, Iowa, received some good news on Thursday.
"He was a walk-on but is now on scholarship," Gill said. "He really has been an all-around good player for us, not only as a tight end, but he's also done it on special teams. He's a dependable guy and a good leader, and I've seen a lot of our players being very, very respectful of him."
Freshman LB leaves team
Gill announced after practice that freshman Jason Hensley, a 6-2, 222-pound linebacker from Alma, Ark., had left the team and likely was done with football. Hensley, one of five linebackers in the Class of 2011, has informed Gill that he may enroll at the University of Arkansas as a student.
Copyright 2018 The Lawrence Journal-World. All rights reserved. This material may not be published, broadcast, rewritten or redistributed. We strive to uphold our values for every story published.