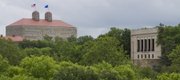 Subscribe to the email edition of Heard on the Hill and we'll deliver you the latest KU news and notes every weekday at noon.
Your daily dose of news, notes and links from around Kansas University.
• As I pointed out in a story in today's newspaper, KU made three Princeton Review top 20 lists, determined by student surveys, honoring its jocks, its campus newspaper and its campus radio station.
The university did stay off of the top party schools list, which I'm sure is a welcome sign for KU administrators.
Here's an article from the University Daily Kansan from 2007 that tells a little bit about KU's history in that area.
The top party school in the country this year is apparently Ohio University. That ranking prompted the school's vice president for student affairs to send an email to all of its students where he expressed his disappointment in the ranking.
It's unscientific, he said. (The rankings are based on student surveys.) And it's "not indicative of the overall experience" of the university's students, according to its own data.
• A KU German professor has been honored by the German consulate in Chicago for his "contributions to the German culture, German scholarship and the German-American friendship," according to an update from the German consulate.
Frank Baron, a KU German professor, was awarded the Officer's Cross, "one of the highest distinctions t hat the Federal Republic of Germany bestows upon any private individual, whether German or foreign," according to the consulate.
Baron has been on the KU faculty since 1970, and director of the Max Kade Center for German-American Studies since 1997.
Look for some photos at the link, and there's a nice shot of the outdoor theater in KU's sister city of Eutin, Germany, where KU musicians are performing operas this summer.
• A representative for the KU Staff Summer Food Drive let me know that they were able to raise more than $2,100 and 500 pounds of food for Douglas County food banks.
He told me that Just Food, an organization that coordinates donations to the food banks, can buy food at 10 cents per pound, so the amount raised this year will help buy 2,835 meals for families in Douglas County.
• It's a party every day here at Heard on the Hill, and you're always invited. No gifts, please. Just keep sending your tips to ahyland@ljworld.com.
Copyright 2018 The Lawrence Journal-World. All rights reserved. This material may not be published, broadcast, rewritten or redistributed. We strive to uphold our values for every story published.