Photo Gallery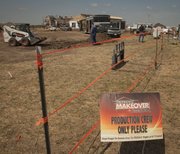 Construction crews rush to finish Extreme Makeover home in Ottawa
Ottawa — With about three days left to build, crews are hustling to complete the "Extreme Makeover: Home Edition" house in Ottawa.
Over Tuesday night, round-the-clock workers assembled the basic shell of the home.
The quick work impressed 78-year-old Overland Park volunteer Mary Alice Geise, who has helped out on the house the past two days.
"I came back this morning and here was this house," Geise said Wednesday.
Geise, a retired second-grade teacher, and her husband attended Ottawa University. Geise said she wanted to pitch in to help an area near and dear to her heart.
"It's very meaningful out here," said Geise, who labored under the hot Kansas sun.
Area contractors — performing volunteer labor — rotated in and out of the project, which is scheduled for completion on Saturday.
Kevin Grob, owner of Elite Excavating in Lawrence, worked with his dad and longtime Lawrence excavator Allen Grob, digging the house foundation and pool.
Grob and his crew had to hustle, starting Sunday morning and working overnight into Monday.
"We did whatever it took," said Grob, who estimated that they donated about $15,000 in labor and materials for the project.
It will all be worth it, Grob said, when they'll get to see the ribbon-cutting ceremony at 2 p.m. Saturday. Cameras will be rolling, and they'll "Move that Bus" when Staff Sgt. Allen Hill — injured by a roadside bomb in Iraq — and his wife and two sons are presented with their new home.
Several events related to the project continue this week, and project coordinators are still seeking volunteers and donations to help complete the house on schedule. For more information, visit joinextreme.com/kansas.
Copyright 2018 The Lawrence Journal-World. All rights reserved. This material may not be published, broadcast, rewritten or redistributed. We strive to uphold our values for every story published.