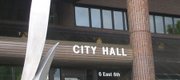 Subscribe to the email edition of Town Talk and we'll deliver you the latest city news and notes every weekday at noon.
This just in this afternoon. City Commissioner Hugh Carter tells me he plans to present his own plan this evening that would involve City Hall layoffs rather than cut back on a planned expansion of the city's police force.
Carter said he thinks the city probably can cut three positions from the city's Planning and Development Services Department rather than forgo adding two new police officers to the city's force. On Monday, Carter was the one commissioner who really spoke out about a plan by City Commissioner Bob Schumm to reduce a planned expansion of the police force from four officers — as recommended by City Manager David Corliss — to two officers. Schumm is supporting the reduction in plans in order to cut another 0.18 mill from the mill levy. That would allow the city's 2012 budget to come in flat — other than a 1.7-mill increase that was approved by voters for an expansion of the Lawrence Public Library.
Carter said he thinks it is admirable that the commission is trying to limit the mill levy increase, but he said there are better ways to do it.
"Unfortunately, I think crime is heavier in bad economic times," Carter said.
That's not the case for development. Carter, a former planning commissioner, said he thinks the slowdown in development activity would allow the city's planning and development services department to cope with fewer employees.
But Carter conceded that what he is talking about are layoffs of existing personnel, which is a step city commissioners haven't taken often during this downturn. Most of the employee cuts at City Hall have come through attrition.
"I don't take that lightly, but I have been in business before and I understand it sometimes has to be done," Carter said.
Carter said his first choice is to allow Corliss' recommendation to stand, which would mean the city's mill levy would increase by 1.88 mills instead of the 1.7 mills under Schumm's proposal. But Carter said he doesn't get the sense that a majority of the commission will approve a 1.88-mill increase.
The 0.18 mill amounts to an extra $4.14 per year property taxes for a $200,000 home.
Commissioners meet at 6:35 p.m. tonight at City Hall.
Copyright 2018 The Lawrence Journal-World. All rights reserved. This material may not be published, broadcast, rewritten or redistributed. We strive to uphold our values for every story published.