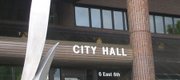 Subscribe to the email edition of Town Talk and we'll deliver you the latest city news and notes every weekday at noon.
News and notes from around town:
• UPDATE: This just in this afternoon. City Commissioner Hugh Carter tells me he plans to present his own plan this evening that would involve City Hall layoffs rather than cut back on a planned expansion of the city's police force.
Carter said he thinks the city probably can cut three positions from the city's Planning and Development Services Department rather forgo adding two new police officers to the city's force. On Monday, Carter was the one commissioner who really spoke out about a plan by City Commissioner Bob Schumm to reduce a planned expansion of the police force from four officers — as recommended by City Manager David Corliss — to two officers. Schumm is supporting the reduction in plans in order to cut another 0.18 mill from the mill levy. That would allow the city's 2012 budget to come in flat — other than a 1.7-mill increase that was approved by voters for an expansion of the Lawrence Public Library.
Carter said he thinks it is admirable that the commission is trying to limit the mill levy increase, but he said there are better ways to do it.
"Unfortunately, I think crime is heavier in bad economic times," Carter said.
That's not the case for development. Carter, a former planning commissioner, said he thinks the slowdown in development activity would allow the city's planning and development services department to cope with fewer employees.
But Carter conceded that what he is talking about are layoffs of existing personnel, which is a step city commissioners haven't taken often during this downturn. Most of the employee cuts at City Hall have come through attrition.
"I don't take that lightly, but I have been in business before and I understand it sometimes has to be done," Carter said.
Carter said his first choice is to allow Corliss' recommendation to stand, which would mean the city's mill levy would increase by 1.88 mills instead of the 1.7 mills under Schumm's proposal. But Carter said he doesn't get the sense that a majority of the commission will approve a 1.88-mill increase.
The 0.18 mill amounts to an extra $4.14 per year property taxes for a $200,000 home.
Commissioners meet at 6:35 p.m. tonight at City Hall.
• When you're selling cars, you have to sell a certain amount of sizzle. Well, South Iowa Street these days is sizzling. In the last several years there have been major building improvements at the Crown Toyota lot, the Dale Willey Chevrolet lot, the Jack Ellena Honda lot, and construction is underway on a new Briggs Subaru lot. Now, add the Laird Noller Hyundai lot at 2829 Iowa St. to the list. Plans have been filed at City Hall for a $1.5 million construction project that basically will double the size of the existing building and give it a face-lift. Gary Bennett with Laird Noller told me the service department will see the largest improvements. It will grow from 12 narrow service bays to 18 full-size bays.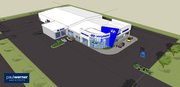 "That facility originally was built for Datsun vehicles in the 1970s, and those were quite a bit smaller," Bennett said.
Ah, Datsuns. Japan's worldwide plan to punish tall people. (Ouch, I just read this line to my wife, and she asked what I would know about being tall.)
Lawrence architect Paul Werner has designed the addition. To the side of this article are renderings of what it will look like. Laird Noller hopes to have it completed by the end of the year.
• With all the wrangling in Washington, D.C., sucking up the airwaves, it has been easy to forget some of the other big stories that have happened around the world. Well, at Jack Ellena Honda, 2112 W. 29th Terrace, they haven't forgotten about the Japanese tsunami. It has had a tremendous impact on their ability to get new cars from Japan. In fact, the new car lot at Ellena has been so bare that I've gotten calls from people wondering if they are going out of business. That's not the case at all, John Ellena told me. Instead, the aftermath of the tsunami has made it difficult for Honda to get car production levels anywhere close to where they used to be. The problems aren't just at the Honda plants, but also at suppliers that Honda does business with.
"Honda is doing all it can do," Ellena said. "But the situation is if you have one supplier for speedometer needles and they can't produce any needles, you don't have a car that you can sell. The components that come out of Japan weren't available to build cars even in this country."
Normally, Ellena Honda will receive 40 to 45 new vehicles per month to keep up with their sales volumes. In June, Ellena received just one car from Honda. In July it was six cars. Word is that Honda will be able to start increasing its deliveries in August and September. Ellena hopes to be back to normal by the end of the year.
"But it has been difficult," Ellena said. "We've just been relying a lot on used-car sales."
• I'll be keeping my eyes open for at least one more development in the Lawrence Auto Plaza. According to the land transfer records, a company controlled by auto magnate Russell Briggs has purchased the old Jack Ellena Honda location in the 3000 block of Four Wheel Drive. It had been sitting empty since Ellena Honda moved to its new location closer to Iowa Street. We previously reported that Enterprise Rent-a-Car was going to move into the office space of the old Ellena dealership. That's because Briggs took over the former Enterprise location, 2233 W. 29th Terrace, to convert into a Subaru dealership. That Enterprise move indeed has happened. But that leaves a lot of space still at the former car lot. Eric Giroux, marketing director for Briggs Auto Group, said he couldn't say what Briggs may have in mind for the new location.
"I can just tell you that he is always ambitious," Giroux said. "He never has an end in sight."
Word on the street — and always take that for what it is worth — is that Briggs plans to open a major auto body repair shop at the location.
• Word on the street also says negotiations between the city of Lawrence and its police and fire unions are taking a long time. City commissioners at their meeting this evening are set to approve the 2012 budget, but they still don't have employment deals with the police and fire unions. Commissioners, though, are meeting at 5 p.m. to have a closed-door session before their regular meeting. That is to get an update on the negotiations. Perhaps, a deal will be publicly presented during tonight's meeting.
Whenever one is presented, I'll be looking for several things. One is whether the deal does anything to address concerns that the city is becoming a two-tiered system when it comes to employees. That's always been the case to a degree because no other city employees besides police and fire are represented by unions. But the trend has become more stark in recent years because the city no longer offers across-the-board cost of living increases for its non-union employees. Non-union employees receive increases based upon their performance reviews. Union employees, for the most part, have been able to hold onto cost-of-living adjustments.
This year also marks the first year for a new overtime policy the city has implemented. For years, if you were a city employee and took a day off, those 8 hours of paid time off were counted as hours worked in the week when computing whether you have exceeded that magical 40-hour mark. The new policy no longer makes that so, but the policy didn't apply to the unions because it was not part of their existing contracts. We'll see if that changes. The third thing that has come up is that the police and fire unions aren't part of KPERS but rather have their own retirement system. The city, just like they do for KPERS, provides a certain amount of funding for the police and fire retirement system. The issue is complicated, but the bottomline is that in 2012 the city's contribution for 185 KPERS employees is expected to increase by $58,000. The city's contribution to the police and fire retirement system is expected to increase by about $400,000 for the 277 city employees covered by the plan. It will be interesting to see what comes out of these long, closed-door negotiations.
Copyright 2018 The Lawrence Journal-World. All rights reserved. This material may not be published, broadcast, rewritten or redistributed. We strive to uphold our values for every story published.