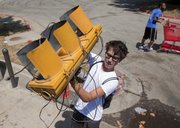 6th hottest July
Last month ended up as the sixth hottest July on record in east-central Kansas, the region that includes Douglas County, according to Mary Knapp, state climatologist. Here are the region's top 10 since 1895, expressed as the mean average daily temperature:
87.3 degrees, in 1980.
86.7 degrees, in 1936.
86.6 degrees, in 1934.
86.1 degrees, in 1954.
85.4 degrees, in 1901.
85.2 degrees, in 2011.
84.1 degrees, in 1939.
83.6 degrees, in 1935.
82.8 degrees, in 1955.
82.7 degrees, in 1974.
Few would confuse Massachusetts Street for Las Vegas Boulevard, but forecasters are laying odds that the Lawrence area will be shedding its usual conditions for those more typical of the Sin City come Tuesday afternoon.
Go ahead and bet the house.
"It'll give us a hot, dry punch," said Jared Leighton, a meteorologist for the National Weather Service in Topeka. "It'll feel more like a desert heat — a dry heat."
Expect an "atmospheric mix" not seen all that often in these parts to push the temperature to a record 110 degrees this afternoon, Leighton said. Air from more than a mile above will press down over northeast Kansas, simultaneously drawing in dry air from New Mexico and the Texas panhandle.
The resulting slight decline in humidity normally would be cause for celebration, but the accompanying rise in temperatures essentially should cancel out any benefit, Leighton said. If the temperature hits 110 degrees — surpassing the record 106 degrees in the area last year, which had topped the 105 degrees recorded in both 1964 and 1935 — the heat index likely won't rise above 112 degrees.
Bob Niederbrach plans to deal with the heat just as he has been for the past several weeks: guzzling plenty of Gatorade, eating bananas to replace lost potassium, and trying to find shade when he can.
Which isn't easy, considering he's putting together a new elevator shaft five stories above Ninth and New Hampshire streets.
"You touch that metal too long, and it'll burn your hands," said Niederbrach, a lead man for Drywall Systems Inc., a contractor at the construction site. "When the sun reflects, it's like someone setting off a flashbulb in your face."
The heat already had sent one of his coworkers to Lawrence Memorial Hospital before lunch Monday, he said. Overall, three people would arrive in the emergency room Monday for heat-related issues, hospital officials said, after 31 people had checked in there during July.
Niederbrach doesn't plan on adding to the tally today, as an Excessive Heat Warning continues.
"You just grit your teeth and deal with it," he said. "That's all you can do."
Dozens of heat-related injuries treated
Three people were treated for heat-related symptoms Monday at Lawrence Memorial Hospital as temperatures soared above 100 degrees, said Belinda Rehmer, an LMH spokeswoman.
Rehmer said the hospital in all of July saw 31 patients because of heat-related issues and six of them had to be admitted for observation.
To help prevent heat-related problems, Division Chief Eve Tolefree, of Lawrence-Douglas County Fire Medical, said each department fire apparatus and medic unit is stocked with a cooler full of ice and water. She said the department also typically calls for more firefighters if they are fighting a fire in heat that is excessive.
The National Weather Service has issued an excessive heat warning until 7 p.m. Wednesday with near-record temperatures expected today with highs in the range of 103 to 110 degrees in the area.
The NWS advises residents to take extra precautions by limiting time spent outside, rescheduling strenuous activities to early morning or evening hours, wearing lightweight and loose-fitting clothing when possible, and drinking plenty of water.
Copyright 2018 The Lawrence Journal-World. All rights reserved. This material may not be published, broadcast, rewritten or redistributed. We strive to uphold our values for every story published.