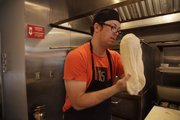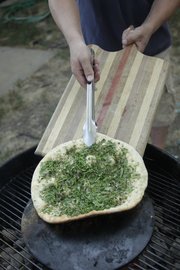 Adam Pousson has the perfect summer twist for the old social standby titled "Friday night drinks and pizza with friends."
It's called "Friday night drinks and grilled pizza with friends."
"Get a bottle of wine, sit outside, grill a pizza and hang out with friends," Pousson says, adding it's even a changeup to traditional summer grillouts. "It's just a little alternative from the standard fare of chicken or steaks or burgers or something."
Grilling not only gets you out of the house and into a chair on the deck, patio or driveway, but it imparts a specific Neapolitan-style char that pizza lovers seek when hunting a New York-style pie. And if that weren't enough, grilling pizza is an efficient, easy way to create a party-like atmosphere where kids and grownups alike can personalize their own dinner to their heart's delight — whether that means with extra cheese or extra New York-style char.
A win-win-win for pizza lovers all around.
Grilled pizza hints and tips
Taming the crust. First, you need to decide if you want to make your own dough, or if you want to buy a ready-made crust.
"I think a lot of the fun is in making the dough. My method is always to start it the morning before the day you're going to use it and just keep it really wet to get some maturation in the flavors, get those strands of gluten really going so you have a much easier dough to work with," says Rick Martin, longtime chef at Free State Brewing Co., 636 Mass. "I think some of the problem with the prebaked doughs is that they already have got a flavor established in them and it's really hard to get your own flavor into it like you can with your own raw dough."
If you make your own dough, our experts highly recommend parbaking, aka putting it in the oven to cook it a bit before grilling.
"Normally, I would parbake the crust in the oven just for a little bit, just so you can handle it," says Michael Beard, executive chef of 715, 715 Mass. Though he adds that as long as you don't roll your raw dough too thin — as in less than a quarter-inch — it should bake OK on a naked grill, but you do need a pizza peel to get it off.
Pousson says if he doesn't have a pizza peel handy, he has used well-floured flexible cutting boards to transfer raw pizza dough to a grill. His method is normally to make his own crust and then transfer the raw, rolled-out dough to a pizza stone, to get it extra crispy. With this method, no parbaking is needed.
Jennifer Remington, co-owner of Wheat State Pizza, 711 W. 23rd St., says she has customers who pick up the store's take-and-bake pizza, parbake it slightly and then grill it with their preferred toppings. She says she's also occasionally sold the store's dough to grilling customers. She recommends to anyone using raw dough — hers or homemade — to oil one side, slide it into the oven, then once it's hardened up a bit, take it out, flip it, top that side with your cheese and veggies, then slide it onto the grill.
Gas vs. charcoal. Gas allows you to control the temperature much better, while charcoal will give you that true smoky, Neapolitan-style crust with the char on it. The trick is to make sure it's not too hot or you'll blacken the outside before the inside has a chance to become more than dough.
"Just try to make your grill as cool as possible because you're basically just toasting bread, and bread will burn really easy," Beard says. "If you can, cap it a little bit, just so you can build up the heat inside the grill."
Pousson recommends waiting until your coals have gone nearly white with coolness. The temperature will still be near 500 degrees, hot enough to do a small from-raw pizza in 5 minutes or a larger one in 10, using the pizza stone method (Note: Make sure your coals are evenly layered and cool before putting on a pizza stone. It may crack if it's too hot.)
Also a note to charcoal folks: Be very picky about your coals, says Pousson.
"Don't use the Match Light stuff because it absorbs the fuel flavor," he says.
Say cheese. Cheese on grilled pizza is pretty similar to cheese on a baked pizza. You want to keep it even and well-distributed so that it melts evenly.
Martin warns not to be heavy-handed with it — he says if you have imparted enough flavor in your dough and chosen your toppings carefully, the cheese needn't be the star.
"I'm a real minimalist when it comes to cheese and pizza. I think that it should be in very small quantities. I think pizza in America and the Midwest especially, the main component is this giant cake of cheese, or pie of cheese, I guess," Martin says. "Gruyere is one of my favorite pizza toppings because it's so nutty and potent and salty that you can go real light with a Parmesan and just have a small amount of strands on a pizza and something like onions, it's always just a good pair."
A word about toppings. Because you've already got the grill going, grilled veggies or chicken make natural toppings for grill-top pizza. If you're not in the mood for grilled veggies, pick wisely, says Beard, who notes the toppings won't cook like they do in the oven.
"Try to use as much fresh produce as you can, as many fresh herbs, leaves, arugula, whatever, just make it nice and summery," he says. "You can't really rely on the heat of the grill to cook your toppings. You're basically just melting cheese, so you just have to think about that."
But you can also get as creative as possible. Remington says she'll watch Twitter for recipe ideas.
And Pousson says his pizza sauce choices run the gamut from homemade tomato sauce to béchamel sauce to just olive oil and herbs. As for cheese, he prefers mozzarella, sliced right from a fresh ball, plus herbs pulled from garden pots.
"You can make it look really garden fresh," Pousson says. "It's kind of nice to be in the back yard and be like, 'Oh, hey, we have these chives over here that are blossoming, I think I'll throw those on here.'"
Recipes
Megan Stuke's pizza dough
3 cups white flour
2 tablespoons olive oil
2 teaspoons salt
1 packet (about 1 1/2 teaspoon) active dry yeast
1 cup lukewarm water
1 tablespoon dried or fresh rosemary
Start by combining the dry ingredients and then add the liquid and stir until it comes together to form a ball. You might have to add a tad more water or oil, but don't go overboard — it should be dry.
Once it all comes together, divide it into two halves, and hand-knead just a tiny bit, maybe a minute. Then let it rise for an hour or two (I did mine in the refrigerator overnight this time), punch it down, and let it rise again for about half an hour. Then you're ready to roll. Easy. I don't even bother breaking out the Kitchenaid for this. Makes two pizzas.
— Recipe from The Flying Fork on Lawrence.com.
Homemade Whole-Wheat Pizza
1 cup warm water
2 teaspoons yeast (active dry yeast)
2 teaspoons kosher salt
2 tablespoons olive oil
3 cups whole wheat flour (I used King Arthur organic white whole-wheat flour)
Tomato sauce
Grated mozzarella cheese
Cooking oil spray
Other desired toppings such as sausage, mushrooms, vegetables, Parmesan cheese, etc.
Drop the yeast into the 1-cup of warm water and let it go to work for a few minutes. It should foam up a little bit. Stir the salt and olive oil into the yeast mixture.
Pour the flour and yeast mixture into a food processor with a dough blade or a mixer with a dough hook and turn on the machine. (You can also mix up this dough by hand.)
You should end up with a ball chasing itself around the food processor. If the dough is too dry add warm water a teaspoon at a time and if it is too wet add flour 1 teaspoon at a time.
Remove the ball from your food processor and knead into a smooth ball. Put the dough into a large ziplock bag or bowl covered with plastic wrap (put a touch of olive oil in and coat the inside of the bag/bowl first) then leave it in fridge for as little as 1 hour or overnight depending on how much time you have. It will rise on it's own in the fridge.
When ready to make the pizza preheat the oven to 500 degrees. Use a rolling pin to roll it out into the desired shape (don't make it too thin!). Put the flat pizza dough on a baking sheet that has been sprayed with cooking oil. Top the dough with homemade or organic tomato sauce, cheese and other toppings of your choice. Bake in a oven for about 8 to 10 minutes or until crust and cheese are golden brown.
— Recipe by Lisa Leake at www.100daysofrealfood.com.
Spinach and Ricotta Salata Grilled Pizza
6 tablespoons extra-virgin olive oil, divided
2 cloves garlic, finely chopped
2 tomatoes, cored and finely chopped
1/4 teaspoon sugar
1 tablespoon chopped fresh parsley
4 large basil leaves, roughly chopped
1/2 teaspoon sea salt, divided
1/2 teaspoon ground black pepper, divided
1 tablespoon finely chopped red onion
1 tablespoon balsamic vinegar
1/2 teaspoon Dijon mustard
1 large pre-baked pizza crust
2 ounces ricotta salata cheese, shaved with a vegetable peeler, divided
1/4 pound baby spinach
Heat 1 tablespoon of the oil in a large skillet over medium-low heat. Add garlic and cook, stirring constantly, until light brown, about 3 minutes. Stir in tomatoes, sugar, parsley, basil, 1/4 teaspoon salt and 1/4 teaspoon pepper and increase heat to medium. Cook, stirring occasionally, until thickened, about 5 minutes; set aside.
Meanwhile, whisk together onion, vinegar, mustard, remaining 1/4 teaspoon salt and 1/4 teaspoon pepper in a medium bowl. Drizzle in 4 tablespoons of the remaining oil while continuing to whisk constantly; set vinaigrette aside.
Preheat grill to medium-high heat. Lightly brush both sides of pizza crust with remaining 1 tablespoon oil and transfer to grill. Turn crust often, flipping once, until just toasted all over, about 2 minutes per side. Transfer to a working surface and top with reserved tomato sauce, spreading it out to the edges. Top with half of the ricotta salata and carefully return pizza crust to grill until cheese is softened and pizza is just heated through, about 2 minutes. Transfer to a cutting board.
Toss spinach with vinaigrette, then arrange on top of pizza. Garnish with remaining ricotta salata, cut pizza into slices and serve.
— Recipe from www.wholefoodsmarket.com.
Copyright 2018 The Lawrence Journal-World. All rights reserved. This material may not be published, broadcast, rewritten or redistributed. We strive to uphold our values for every story published.