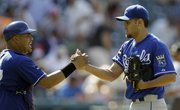 Cleveland — The Kansas City Royals aren't playing like a last-place team.
Sunday's 5-3 victory over Cleveland completed a successful road trip for the Royals, who split four games in Boston and won two of three against the Indians.
Manager Ned Yost hopes his club has picked up some momentum to start a homestand that begins Tuesday against Baltimore.
"Two wins against Boston — in Boston — is really good," he said. "Coming in here and battling with this team, and winning two out of three with a chance to take all three of them, I thought we played great baseball the whole road trip."
If not for Joakim Soria's blown save in Saturday's 5-2 loss, the Royals would have pulled off a sweep. Soria redeemed himself by closing out Sunday's win, his 20th save in 26 chances. Asdrubal Cabrera drew a one-out walk, but Carlos Santana hit into a game-ending double play.
"(Saturday night) just happened. He threw good pitches and he got hit," Yost said of Soria's turnaround. "(Sunday) he made good pitches and he got us through it. He definitely did an outstanding job."
Danny Duffy pitched into the sixth inning starting for the injured Kyle Davies, and Jeff Francoeur and Alex Gordon homered. The Royals have won eight of 12.
Duffy (3-4) allowed two runs in five innings, giving up eight hits and striking out six. He also picked two runners off first. Duffy was told Saturday night that he would replace Davies, who has been bothered by a sore right shoulder.
"I told him (Saturday) to start thinking about being ready," Yost said.
Duffy said it would not have mattered when Yost told him because he warms up quickly.
"I'm pretty microwaveable," he said. "You give me 30 minutes, and I'll be ready. Today was a really good win for this team. Our bullpen went four good innings, and we ended up winning the road trip."
Yost isn't sure when Davies (1-9, 6.75 ERA) will pitch again.
"It bothers him playing catch, and it bothers him when he tries to extend on his fastball," Yost said. "So we thought it was best to go ahead and skip him. We'll re-evaluate it (today) and see where we're at."
Francoeur homered to lead off the second. Gordon's home run came with one out in the fifth.
Kansas City scored an unearned run in the fourth. Francoeur drew a one-out walk and went to third on Mike Moustakas' double over first. Francoeur scored when Kosuke Fukudome's throw from right field skipped away from second baseman Jason Kipnis. Fukudome was charged with an error.
Billy Butler hit a sacrifice fly in the eighth, while Alcides Escobar added an RBI single in the ninth, capping a 14-pitch at-bat against Tony Sipp.
"Escobar's at-bat in the ninth inning was huge to give us that little extra cushion that we needed," Yost said. "A 14-pitch at-bat is a heck of an at-bat. He just kept battling, battling, battling until he got a pitch that he could drive up the middle."
Copyright 2018 The Associated Press. All rights reserved. This material may not be published, broadcast, rewritten or redistributed. We strive to uphold our values for every story published.