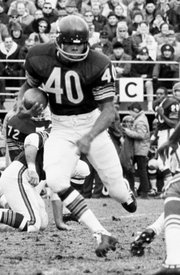 For most young football players who grew up as fans of the game during the past couple of decades, there was no shortage of running backs for which they could root for and fall in love with.
Barry Sanders, Emmitt Smith, Marshall Faulk and LaDainian Tomlinson were just a few of the game's all-time greats who played their pro ball in the 1990s and 2000s.
As much as he enjoyed watching all of those players, Texas A&M;'s Cyrus Gray always had a different favorite. And it was a guy he never actually saw play.
Gray, a senior from DeSoto, Texas, said last week at the Big 12's media days in Dallas that his favorite all-time running back was former Kansas University standout Gale Sayers.
"He's a legend," Gray said. "He's one of the guys who started the home-run threat and breaking guys' ankles. He's inspirational to me and any other back that knows football."
Gray said he first learned about Sayers' short-but-stellar NFL career by watching highlights on television. Mesmerized by The Kansas Comet's ability to rack up so many yards in such an effortless manner, Gray always envisioned himself turning into that kind of back.
Though some teammates have found it a little odd for Gray to idolize a guy who played in the 1960s, Gray's high school teammate and current fellow Aggie, Tony Jerod-Eddie, said the connection never surprised him.
"Cyrus has always been a guy who, no matter what level it is, he knows all the running backs, so it doesn't really surprise me at all to hear that he said Gale Sayers is a guy he wants to be like," said Jerod-Eddie, a 6-foot-5, 300-pound defensive lineman. "He's really a student of the game, and he always researches the top running backs and knows all the history."
Although Gray, 22, is majoring in agricultural leadership and development, he considers himself a history buff when it comes to football.
"I am," he said. "When you get a chance to watch the NFL Network any time they're showing great running backs or great players, you see Gale Sayers. He's the guy that started a lot of things that not too many guys know about. He's exciting to watch even now."
Since his first flirtation with Sayers' film, Gray has become one of the top college running backs in the country. Last season, in an emergency type of role, Gray rushed for 1,133 yards and 12 TDs in seven starts while helping lead the Aggies to a 9-3 season. After starting the year 3-3, A&M; ripped off six straight wins before falling to LSU in the Cotton Bowl. During that stretch, Gray delivered seven straight 100-yard games.
"Certainly Cyrus finished the season on somewhat of a tear," A&M; coach Mike Sherman said. "And we want to see him pick up where he left off."
Gray, who admits he knows Sayers more as a Chicago Bear than a Kansas Jayhawk, visited KU before signing with A&M.; On his visit, he met Sayers briefly.
"He was a great guy, and you could definitely see that he might still have it," Gray said. "It was great meeting him."
So, after meeting his hero, how was it possible for Gray to turn down Kansas?
"I'm in a good spot, and it all came down to being closer to home so my parents could see me play more," he said. "Ever since I've been at A&M;, they've been at every game."
Gray and the Aggies will open the season Sept. 4 against SMU. A&M; will play host to the Jayhawks on Nov. 19, when Gray hopes to get one more chance to visit with Sayers.
"That would be amazing," he said.
Copyright 2018 The Lawrence Journal-World. All rights reserved. This material may not be published, broadcast, rewritten or redistributed. We strive to uphold our values for every story published.