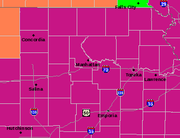 August is starting like July ended: hot and humid.
According to the National Weather Service, high temperatures for today are forecast to be 103 degrees, with a heat index as high as 111. On Tuesday, high temperatures are forecast to be 106, with a heat index of 109.
All these high temperatures have led the weather service to put in place an excessive heat warning through Wednesday at 7 p.m. A chance of storms later this week could drop temperatures into the low 90s by Friday.
As of 8:35 this morning, temperatures in Lawrence were already over 90, and the heat index was already over 100. Remember to drink lots of fluids to stay hydrated, avoid strenuous outdoor activity and check on neighbors and pets.
Copyright 2018 The Lawrence Journal-World. All rights reserved. This material may not be published, broadcast, rewritten or redistributed. We strive to uphold our values for every story published.