Barbara Walden
Age: 77
Born: Dodge City
Degrees: Graduated from Berryton Rural High School in rural Topeka, and attended Kansas University.
Occupation: Retired after 22 years as a bookkeeper for a Topeka jewelry store. She had various jobs throughout her lifetime.
Family: Married to Bob Walden for 57 years. They have two children and three grandchildren. The couple moved to Lawrence when Barbara retired 12 years ago.
Hobbies: Making crafts, quilting and knitting. She is a doll collector and estimates her oldest doll is about 150 years old.
Member of: Over the Rainbow Doll Club and Lawrence Free Methodist Church.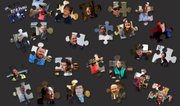 A special section honoring your neighbors, unsung heroes and people who do the little things that just make life better in Lawrence.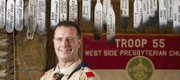 Read about the honorees for the 2011 Only in Lawrence: "Community" category.
Looking outside the nursing home windows, it was a dark and rainy day.
But inside, feet and fingers were tapping and wheelchairs rocked gently back and forth to the music that filled the room.
Barbara Walden was playing "Rock of Ages" on a piano in the corner of the activity room at Lawrence Presbyterian Manor. Fifteen residents sat behind her. Some sang along, some mouthed the words and others simply listened.
For about 30 minutes, Walden played hymns and old-time favorites such as "Come, Thou Almighty King," "Holy, Holy, Holy Lord God Almighty" and "Over the Rainbow."
"I've got chills because you sing so well," she said to them between songs.
Walden, 77, of Lawrence, has been volunteering to play at the nursing home every Wednesday morning for the past 11 years. She rarely misses.
"I've been around nursing homes a long time with my husband's parents and my mother and other relatives, and I know that they don't have a lot to look forward to," she said. "So if that's something that I can help them look forward to — I love to do it."
LouAnne Burgess, activity assistant, said Walden draws the largest crowd each week.
"Music is an integral part of what we do because it touches the memory. It helps bring back the past," she said. "They may not sing very loud, but you can see they are mouthing the words. They know what they are."
Walden has been playing the piano since she was 6. Over the years, she has played the piano for church choirs, musicals and weddings.
In grade school, she fondly remembers being an accompanist for a Kansas University student's senior recital.
"I couldn't do it now," she said, with a chuckle. "I look at that music and think, 'I played that?' I couldn't do it now. I'm too out of practice to do things like that. But, I still enjoy a challenge once in awhile."
She recently was challenged by the nursing home residents who requested "Clair de Lune."
"In six months, maybe I will be able to play it," she said, laughing.
Walden practices playing the piano at home for about 45 minutes every day; otherwise, she says she would get rusty.
Somehow, she fits it into her already-busy schedule, which includes being a full-time caregiver for her 98-year-old mother who resides at Brandon Woods Retirement Community in Lawrence, and her husband's aunt and uncle, who are 90 and 94, respectively, have no children, and live in an assisted living facility in Overland Park.
Walden and her husband, Bob, take care of their older relatives' bill paying, doctor's appointments and shopping.
"It just keeps us busy," she said. "If you think retirement years are going to be different than that — you might think again."
Copyright 2018 The Lawrence Journal-World. All rights reserved. This material may not be published, broadcast, rewritten or redistributed. We strive to uphold our values for every story published.