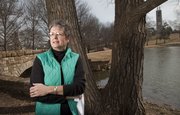 Peg Livingood
Age: 56
Position: Landscape architect and campus planner at Kansas University
Employed at KU since: 2000
Best part of the job: "I love the variety and just being in touch with the beauty of the campus."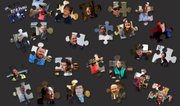 A special section honoring your neighbors, unsung heroes and people who do the little things that just make life better in Lawrence.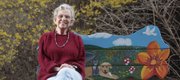 Read about the honorees in the 2011 Only in Lawrence: "History" category.
Peg Livingood's official title at Kansas University's office of design and construction management is project manager.
But she does a lot of stuff, really. She's a campus planner, a landscape architect, and she's helped implement parts of KU's campus heritage plan.
She's given talks on the plan, which mainly call for people to take a moment and think about the impact on the historical significance of the campus before undertaking any development activity.
Livingood offers this example: In recent years, KU was doing some renovations to its network of steam tunnels that run underneath the campus. One part of the project was in an area at the northwest corner of the intersection of Jayhawk Boulevard and Sunflower Road.
An exit and entrance to the tunnel was planned to go right in the middle of the grassy triangle of land. Livingood and others intervened, suggesting the entrance be placed in a spot where it was much more hidden from view.
"Having that tunnel access there would have been devastating for that space," Livingood said. "It still works, it still functions, it just blends in a little bit."
Jeff Severin, KU's Center for Sustainability director, said Livingood, in addition to preserving campus history, also worked well with students concerned about environmental matters.
"She is a quiet champion for sustainability on campus," Severin said, adding that she's often behind the scenes with students to ensure a project gets done.
He said Livingood provided key guidance to students designing a rain garden outside the Ambler Student Recreation Fitness Center, for example.
And, in even smaller projects, she has worked to ensure that a lighting project initiated by students on KU's West Campus works with existing architecture.
Simplicity is the key.
"She wants to make sure the focus isn't on that light fixture, it's on the building," Severin said.
As part of the campus heritage plan, Livingood also looks to protect "view sheds," or places where on campus you can stand, and hopefully see the same thing you saw 50 or more years ago.
Preserving the campus' heritage isn't always easy.
"There's no identified funding for historic preservation, per se," she said, which can make things difficult.
Livingood said a list of donor opportunities will be debuting soon online. Donors can opt to bring back things like rows of trees that lined Jayhawk Boulevard. Elm trees used to grow along the road until they fell victim to disease.
Trees, too, can be difficult, she said. If they are replanted, they won't be one species, to slow the spread of disease.
But she knows that planting trees is a process will take some time.
"The best time to plant a tree was 30 years ago," she said.
The issue of campus preservation resonates with many people, Livingood said.
"You talk to alumni, and people have such strong connections to the campus landscape environment," she said.
And potential freshmen regularly look for campus beauty as a big part of their school choice.
"I take my responsibility very seriously," she said. "I feel like I have to protect the beauty of this campus for future generations."
Copyright 2018 The Lawrence Journal-World. All rights reserved. This material may not be published, broadcast, rewritten or redistributed. We strive to uphold our values for every story published.