Sharee Thompson
Age: 28
From: Wellsville, Utah
Time in Lawrence: 7 years
Education: Utah State, 2004; master's degree from KU, organ performance, 2006
Favorite organ composer: Maurice Duruflé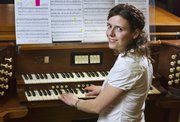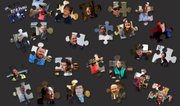 A special section honoring your neighbors, unsung heroes and people who do the little things that just make life better in Lawrence.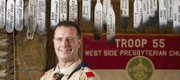 Read about the honorees for the 2011 Only in Lawrence: "Community" category.
A Sunday visitor to Lawrence's First Presbyterian Church, 2415 Clinton Parkway, will find the Rev. Kent Winters-Hazelton up front and a cross-section of Lawrence in the pews, that much is obvious.
But what might not be so obvious is the elephant in the room and in your ears — the beautiful music coming from the church's organ. The large instrument and the performer behind it, Lawrence's Sharee Thompson, can change the whole weight of a service, according to Winters-Hazelton.
"To have somebody who has a very good feel for the nature, the piece that we're playing, the mood that it brings to us, what we're trying to accomplish in worship is absolutely critical," Winters-Hazelton said. "We really do feel very, very pleased with Sharee."
Each Sunday morning worship service, memorial service and wedding has a soundtrack, provided in large part by Thompson, who earned her bachelor's and master's degrees in organ performance after falling in love with the instrument in college. She had played the piano her whole life and suddenly switched while going to school in Utah.
"It's just kind of a new challenge, I think, from playing the piano," says Thompson, who still plays piano for the church's early-morning contemplative service. "It had an added dimension with the pedals. And you use your feet and your hands. ... It was just exciting."
While learning the intricacies of the new instrument, Thompson met her husband, also an organist. Later, they came to KU, where they both had planned on getting master's degrees in organ before he changed to choral conducting.
A career in organ has served Thompson well, allowing her to be at home with her two young children during the week and save her most intensive work for the weekend.
"It's actually pretty easy," she says. "A little easier when my husband was still a student, just because his class schedule would be flexible enough that it could accommodate that a little bit more."
And while she plays her way toward her fourth year at the church, First Presbyterian is hoping to raise money to refurbish, repair and double the capacity of the organ. Winters-Hazelton said the instrument has been in disrepair for a long time, not that Thompson allows anyone to notice, he adds.
"One of the things that Sharee does very, very well is to avoid the stops or the keys that don't play," Winters-Hazelton says. "My congregation really doesn't realize how limited the organ really is because she's so good at playing around that kind of stuff."
The only thing Thompson wishes were different about her job? That it afforded her a bit more time to learn from watching other professional organists.
"The hard thing about (being) an organist, you don't get to see what every other organist is doing on Sunday morning, because they're doing it at the same time you are," she says. "So, in a way, that's challenging because it would be very educational for me to go hear another organist play, (see) what they are doing, learn from them in that way, but I don't really have the opportunity."
Copyright 2018 The Lawrence Journal-World. All rights reserved. This material may not be published, broadcast, rewritten or redistributed. We strive to uphold our values for every story published.