Sandy Unruh
Age: 57
Family: Unruh and her husband, Jim, an engineer for BNSF, have three sons who attended Lawrence public schools: Chet, a carman for BNSF; Mark, a juvenile investigator for the Lawrence Police Department; and Kyle, a diesel mechanic at Penny's Concrete.
Occupation: Administrative assistant at New York School for 20 years; before that, she worked at South Junior High beginning in 1989.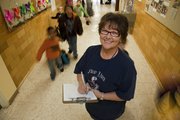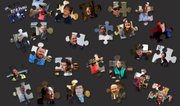 A special section honoring your neighbors, unsung heroes and people who do the little things that just make life better in Lawrence.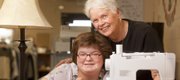 Read about the honorees in the 2011 Only in Lawrence: "Learning" category.
Sandy Unruh will be the first to tell you that she's not all that different from any other person working the front desk at a school.
That she does this while answering questions, tending to owies, filing supply orders, arranging student pickups, drawing names for recognition programs, welcoming visitors and pretty much handling anything and everything that walks in the front door, rings in through the phonelines or arrives via mail — electronic or otherwise — at New York School tells you otherwise.
"You never know what's coming around the corner," Unruh says, "so you just act fast and handle the most important things first."
Unruh is a true Lawrence original, holding down the fort in an iconic building at the oldest elementary site in the Lawrence school district.
And such duty doesn't go unnoticed.
"We all know who runs the school," says Nancy DeGarmo, principal at New York, and she's not referring to herself.
Unlike at larger elementary schools, where two administrative assistants are on the payroll, Unruh works as a staff of one.
But that's not to say she's alone. Plenty of folks — teachers, support staffers, parents and, of course, kids — rely on her calm demeanor, attention to detail and broad organizational skills to help accomplish whatever is necessary.
Time for a student to get picked up early? Unruh fires up the intercom to connect with child's teacher.
A student needs someone to listen to him read aloud from a book? Unruh's all ears.
No nurse today? Unruh will break out an ice pack to calm a student's swelling knee and frazzled nerves.
Ordering paper. Calling parents. Forwarding messages. Choosing winners of the school's weekly Knights Awards, given to students who perform well, do good deeds or otherwise do the right things as part of their normal school days.
"I do a little bit of everything," Unruh says, shrugging off the scattered nature of her duties. "It keeps the job very interesting."
DeGarmo knows better, from experience.
"I've had to do it before," DeGarmo says, laughing at the thought. "There's been days when Sandy's gone and we couldn't get a substitute, so I've tried to sit out there and manage all those things at one time — and it's just overwhelming, you know?
"I'm constantly calling people down, going, 'Help! I can't do this by myself.'"
And that's one of the reasons DeGarmo and others at New York School are thankful to have their own, one-of-a-kind and irreplaceable secretary/fill-in-nurse/listener/helper/organizer/etc.
Unruh simply gets the job done, even when the job is defined as a variety of jobs that never seem to let up.
Again, DeGarmo says, "We know who runs the school."
Copyright 2018 The Lawrence Journal-World. All rights reserved. This material may not be published, broadcast, rewritten or redistributed. We strive to uphold our values for every story published.