Jim Baggett
Occupation: Owner of Mass. Street Music
Hobby: Collecting and restoring rare guitars, which made him an expert of "Antiques Roadshow" caliber
What he likes best about that side gig: "For me, what the 'Antiques Roadshow' is about is historical objects that aren't necessarily of high value, but are very interesting with a great story."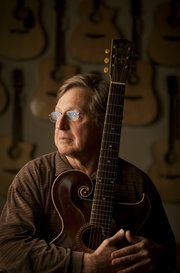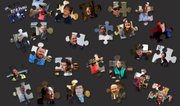 A special section honoring your neighbors, unsung heroes and people who do the little things that just make life better in Lawrence.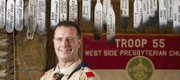 Read about the honorees for the 2011 Only in Lawrence: "Community" category.
Lots of people have hobbies, fun and creative things they do to while the hours away. Some people may become very accomplished at their particular diversion. Few, however, hone their interest to an expert level — something marketable they can build a business and career around.
Jim Baggett, co-owner of Mass. Street Music, 1347 Mass., has always had one driving passion — the guitar. Specifically, pre-World War II Martin acoustic guitars interest Baggett. He's become a connoisseur of a multitude of instruments, of many makes and models.
Baggett attributes his acumen to simply being around other musicians and guitar experts for decades.
"I got out of college in 1972," Baggett says. "I was interested in playing guitar and had always been a builder of things. I was fortunate enough to run into a classical guitar builder in Kansas City. I just spent a lot of time in his house — helping him, watching him. At the time I started, there weren't any musical repair schools. It was basically, learn on my own or learn from anyone I could find who knew more than I did."
It didn't take Baggett long to found Mass. Street Music, though at the time, it had a different name and was located on a different street.
"I started the business as an instrument repair shop in 1978 at Seventh and Michigan. I bought (the present) building in '83 and didn't occupy it until '86. It was, basically, a one-man shop. I did repair in one part of the building and sales in the other part. Over the years it's grown into a full shop, with 12 employees on average. We still have an emphasis on repair and restoration of musical instruments."
Beyond simply playing and repairing instruments, though, Baggett's passion lies with collecting and restoring rare guitars.
"In the past 10 years I've really focused on mostly high-end, retail-quality musical instruments. With Martin, they had the very best materials. They probably had the best craftsmen available. The design was intact, the materials were phenomenal and the craftsmanship was phenomenal. All three things were met. After the war — it all went electric. People didn't want to work in a wood shop anymore."
'Antiques Roadshow'
Baggett's knowledge of old and obscure instruments is so well-respected that he works for PBS' television program "Antiques Roadshow," and he travels the country, looking over various instruments that people bring in for appraisal.
Baggett says there are rules on what an appraiser should and should not say to the owner of a very valuable item.
"Once you meet that guest and decide to go on camera with them, you separate yourself from them. Just so everything seen on camera is fresh. There's no rehearsal with that person. I know their name and the object they brought in. That's it. If you get a really important piece, they tell you not to say anything."
He says the "Antiques Roadshow" events can be exhausting, but it is intriguing to see the random and amazing things people have stored in their basements and attics.
"The musical instrument table where I work, we see anywhere from 200 to 300 instruments in a 12-hour period," Baggett says.
"You can find something, an instrument, that's just interesting for some reason. I just find it fascinating. For me, what the 'Antiques Roadshow' is about is historical objects that aren't necessarily of high value, but are very interesting with a great story."
No place like home
Despite all of his traveling, for Baggett, no place is quite like Lawrence. He says it's a special place to live and he loves the small-town atmosphere. He says that, even in relatively quiet town like Lawrence, however, it is getting increasingly difficult to run a traditional business.
"There seems to be a general goodwill toward the kind of old-fashioned business. We get a lot of compliments," he says. "It is a challenge, though, in a city where we're becoming surrounded by the kind of homogenized-type of big box stores that are everywhere."
Baggett says in the end, he's still a kid at heart.
"Somebody I know is the biggest coin dealer in the world — he's a gazillionaire. I asked him what he did before this. He said, 'Sixth grade.' And that's me. I've been fixing things and doing this since I was a kid."
Copyright 2018 The Lawrence Journal-World. All rights reserved. This material may not be published, broadcast, rewritten or redistributed. We strive to uphold our values for every story published.