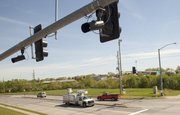 There's a new crimefighter in town, and it's hanging from a traffic light in west Lawrence.
The Lawrence Police Department confirmed Friday that it has installed video cameras at the intersection of Clinton Parkway and Wakarusa Drive to capture the license plate numbers of vehicles suspected in a crime.
"We would like to take a look at having cameras installed in other intersections, depending on how well they work and how the public reacts to them," said Sgt. Matt Sarna, a spokesman for the department. "But right now, we're just in the test phase."
The cameras are connected to a system that allows police officers to enter the plate number of a suspect's vehicle, for example, into a computer system. The camera then keeps an eye out for the license plate and sends an immediate notification to the police department once it is spotted.
Sarna said department leaders examined a similar system that is in place in the Kansas City metro areas. He said the cameras likely could be useful in finding vehicles associated with robberies, child abduction cases or other instances where a tag number is known and time is of the essence.
The cameras will not be used to ticket motorists who run red lights. Such systems are used in other states, but the city's traffic engineer said that red-light cameras are not legal in Kansas. The state Legislature would have to pass a new law that would allow people to be ticketed in such a manner.
Sarna also said the system is not set up to record live video at the intersection. He said the department plans to use the system only as a "community safety initiative during an emergency."
The cameras were purchased with grant funds, but details about their cost weren't immediately available Friday afternoon. Sarna said the only cost to the city was installation, which he said was nominal.
Copyright 2018 The Lawrence Journal-World. All rights reserved. This material may not be published, broadcast, rewritten or redistributed. We strive to uphold our values for every story published.