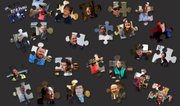 A special section honoring your neighbors, unsung heroes and people who do the little things that just make life better in Lawrence.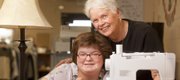 Read about the honorees in the 2011 Only in Lawrence: "Learning" category.
Sure, most of us know we can learn to ballroom dance or play the piano in Lawrence.
But if you're really looking to break out of your mold, here are some lesser-known classes offered by Lawrence organizations.
Maybe you'll want to try several — but not necessarily at the same time. Taking "Knife Skills for the Home Cook" while learning to ride a horse, for example, could have disastrous consequences.
Belly dancing
Who: Azadeah (professional belly dancer)
Scoop: It takes two to tango, but only one to belly dance. For $30 an hour for an individual, Azadeah will teach you the ins and outs of moving your stomach in and out in the Middle Eastern styles of belly dancing.
More information: www.azadeahbellydance.com
Knife Skills for the Home Cook
Where: Community Mercantile, 900 Iowa
Scoop: Want to know how to deftly master dicing and slicing without a Chop-O-Matic? Or maybe just want to avoid slicing yourself? This class, taught by a Merc chef, is just for you. Already have sharp knife skills? The Merc also offers a variety of other cooking classes.
More information: www.communitymercantile.com
Geocaching 101
Where: Lawrence Parks and Recreation
Scoop: Merging technology and the outdoors, geocaching has become a popular treasure-hunting hobby. LPRD offers a one-day GPS primer to get involved in finding hidden caches.
More information: www.lprd.org
Japanese Food Pottery
Where: Lawrence Arts Center, 940 N.H.
Scoop: There might be value in art for art's sake, but this class teaches you art for food's sake. You'll learn to make traditional vessels to hold Japanese food — and have a potluck dinner at the end of class.
More information: www.lawrenceartscenter.org
Sailing lessons
Where: Kansas City Sailing (Perry Lake)
Scoop: Landlocked Kansas may not offer sailing on the high seas, but it does offer some gorgeous lakes. Kansas City Sailing offers classes to help you learn your way around a boat. Who knows? Maybe you'll go out on a windy day and the white caps will be high enough you can pretend you're on the ocean.
More information: www.kansascitysailing.com
Equestrian lessons
Where: White Horse Equestrian Center, Eudora
Scoop: If you dream of riding into the sunset, or just riding around a horse barn, this might be for you. Horse-riding lessons are available for all ages and abilities.
More information: www.whitehorseequestriancenter.com
Human Sexuality in Everyday Life
Where: Ecumenical Christian Ministries, 1204 Oread Ave.
Scoop: Hundreds of people have gone through retired KU professor Dennis Dailey's classes on human sexuality, which also include Intimacy for Committed Couples. The Human Sexuality in Everyday Life class focuses on the basics of human sexuality.
More information: www.ecmku.org
Skywarn
Where: Douglas County Emergency Management
Scoop: Want to know when it's OK to watch the incoming storm from the porch, and when you really ought to head to the basement? Skywarn classes offered January through March of each year teach you about severe weather with the aim to recruit volunteers who can keep an eye on the sky for the Douglas County Emergency Management Operations Center.
More information: www.douglas-county.com/depts/em/volunteering/em_skywarn.aspx
Computer classes
Where: Lawrence Public Library, 707 Vt.
Scoop: If you're broken down on the side of the Information Superhighway, the Lawrence Public Library offers a variety of classes to tune up your computer skills. Classes include Intro to the Internet and Virtual Lawrence Tour.
More information: www.lawrence.lib.ks.us (or if that's too much for you to handle, call 843-3833).
Copyright 2018 The Lawrence Journal-World. All rights reserved. This material may not be published, broadcast, rewritten or redistributed. We strive to uphold our values for every story published.