Photo Gallery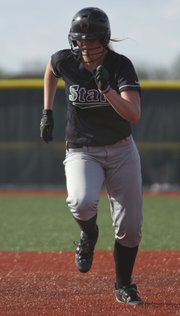 Free State softball vs. Shawnee Mission West
In little more than a few hours, Free State High's softball team was back to feeling pretty good about itself.
And with good reason, too, as the Firebirds swept Shawnee Mission West, 5-2 and 3-0, in a doubleheader Thursday evening at FSHS.
"We stress every day in practice what we're capable of doing," coach Lee Ice said. "It's just a matter of bringing it out into the game, and we've done a much better job of that lately."
Paced by complete-game efforts from Mary Ann Smith and Megan Eagle, the Firebirds (6-8) made quick work of the Vikings.
Smith struck out seven in Game One while scattering four hits, and the FSHS offense — paced by three hits from Alex Hill and two hits each from A'Liyah Rogers and Samantha O'Brien — bolstered her with an early 4-1 lead.
In Game Two, it was Eagle's turn, and she mowed down the Vikings, allowing only four hits and walking one.
"We have to pitch to contact," Ice said. "And they went out and threw strikes, and we made plays behind them."
Rogers went 3-for-3 and scored a run, and Remington Samuels, Courtney Parker and O'Brien drove in the FSHS runs.
The Firebirds will play a doubleheader at Olathe Northwest at 4:15 p.m. Tuesday.
Copyright 2018 The Lawrence Journal-World. All rights reserved. This material may not be published, broadcast, rewritten or redistributed. We strive to uphold our values for every story published.