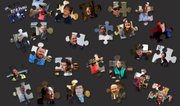 A special section honoring your neighbors, unsung heroes and people who do the little things that just make life better in Lawrence.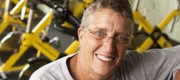 Read about the honorees for the 2011 Only in Lawrence: "Sports" category.
The office of Free State physical education teacher/volleyball coach Nancy Hopkins includes typical items for someone in her position: Boxes stuffed with uniforms. Old team pictures. Binders, schedules, stacked cones, file cabinets, random athletic equipment.
Open a cabinet here, a drawer there, and before long it's obvious this isn't just another PE office. The cramped room is loaded with memorabilia from sports standouts, Hollywood stars and best-selling authors.
Hopkins beams as she shows off the collection she has acquired over the past few years, including autographed photographs of athletes Tiger Woods, Barry Sanders, Cal Ripken Jr. and Tony Gonzalez and from huge Hollywood names such as Elizabeth Taylor, Robert Duval, Denzel Washington and Jim Carrey.
She has a football signed by Joe Namath, a die-cast race car signed by Clint Boyer, an iPod engraved with a greeting from Yoko Ono.
No, Hopkins is not a celebrity stalker or a hoarding memorabilia collector. She's a woman with a cause that has kept her busy writing world-famous people asking for their help. For her efforts, Hopkins is the first honoree of the Only in Lawrence Sports Award
Hopkins plans to auction the items at a site and time yet-to-be determined and use the funds to further upgrade Free State High's fitness/cardio room.
Some of those who have responded to her call for help have included hand-written notes, even checks in support of the cause.
"It's crazy," Hopkins said, while unwrapping another donation. "To think that all of these famous and important people think what we're doing is important."
Hopkins said more than 400 books, many autographed by the authors, have been donated.
The fitness room already has come a long way. The shiny yellow stationary bikes, the handful of treadmills, new flooring and the freshly painted walls all are signs of the room's renovation. Once used as a film room for Bob Lisher's football team, the room became an over-stuffed utility closet for surplus athletic gear, some of it broken.
"The room ended up being a pit," Hopkins said.
Fortunately for Hopkins, principal Ed West, who came to the school in 2008, could relate to her desire to turn it into a place with more meaning, a place where students could become healthier.
West was able to allocate what he estimated at $22,000 to $30,000 toward renovating the room. Former players, parents and other generous Lawrence residents have pitched in financial donations.
"When she came to me with her vision, I was very excited because it was mine at my previous school," West said.
Depending on how much money her auction can raise, Hopkins envisions adding cardio equipment, sets of dumbbells and core-strengthening balls, maybe even flat-screen TVs and computer access to track workout logs.
"I can't sleep at night because things just go through my head so much," Hopkins said. "Like, what can I do next? How can I make this better?"
Tracing the source of her mission isn't difficult for those familiar with Hopkins' history with sports.
Hopkins, 59, said her fondest memories of her Emporia childhood revolved around neighborhood Wiffle ball games, tennis matches and sandlot football games. That laid the foundation for an athletic career that extended into her college days as an outside hitter on the volleyball team and the starting shortstop on the softball team at Emporia State.
"We didn't have video games," Hopkins said.
Hopkins, who received her master's at Kansas University, ran Lawrence's junior volleyball program before coming to Free State when it opened in 1997.
In addition to her Free State duties, Hopkins runs the game clock during KU women's basketball games and the shot clock at KU men's games.
"For the most part, this is my life," Hopkins said, glancing round the room that drips athletics. "I've been doing this since I was 20. I always knew I wanted to be a P.E. teacher and always immersed myself in things athletic. I loved what I do. I just didn't think I'd be doing it for 50-plus years."
Hopkins said she always dreamed of owning a small gym or fitness club when she retired, plans that since have changed. She may well end up running a fitness center of her own creation at Free State by the time her efforts to upgrade the cardio room are finished.
"She wants to be able to walk you in the door and see 20 people working hard to make a difference in their own lives from a health standpoint," West said.
Getting to that point will require figuring out when, where and how to pull off the auction.
According to Hopkins, the ideal format for the auction will be a multiple day, open-to-the-public event, possibly with catering and live music by the FSHS ensemble. All of the money raised at the auction will go directly into an account that has been established specifically for funding the cardio room.
West said he would like to host it at FSHS, but the magnitude of the collection would make it impossible to secure a big enough location, like the main gymnasium, for multiple days.
The auction is still without a date or venue, though Hopkins hopes to have most of the items sold by the summer, so she can begin ordering the equipment and have the room refurbished for the fall 2011 semester.
"I saw a problem that I wanted to do something about," Hopkins says. "Basically that's all it is."
For any additional information about the auction, contact Nancy Hopkins at nhopkins@usd497.org or visit the official website.
Copyright 2018 The Lawrence Journal-World. All rights reserved. This material may not be published, broadcast, rewritten or redistributed. We strive to uphold our values for every story published.