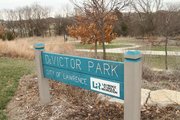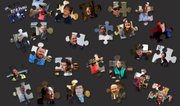 A special section honoring your neighbors, unsung heroes and people who do the little things that just make life better in Lawrence.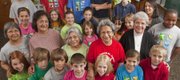 Read about the honorees for the 2011 Only in Lawrence: "About town" category.
Ken Clouse walked his 6-year-old husky, Juno, down a path at DeVictor Park. A few other walkers can be seen, but most people who use the park live in the neighborhood. It's just a short walk for Clouse, who lives on Harvard Drive.
"Almost daily we go down this trail," he said.
This park is one of 54 parks in Lawrence, and it's one that Mark Hecker, parks and maintenance superintendent for the city, says is obscure.
Four sites in particular are relatively new or hard to find, but they all offer something new for park-goers.
"If you go look at some of these other parks," Hecker said, "they all have a unique characteristic to them."
DeVictor Park, 1100 George Williams Way
This park, near Langston Hughes School, has many trails that wind around much of the corner lot and into neighborhoods as well.
"People are starting to recognize it a little bit," Hecker said. "It's starting to get a lot of popularity."
The park was named for Fred DeVictor, once a director for the Lawrence Parks and Recreation Department. It opened in March 2007 and includes an outdoor classroom, a playground, benches, picnic tables and many other amenities.
Clouse said sometimes he and Juno met other dogs while walking on the trails, and he is happy the park is so close to his home.
"A very nice feature about Lawrence is all the trails that are paved," he said.
Pat Dawson-Billings Nature Area, southwest of 27th Street and Crossgate Drive
This area, which is at the southern end of Crossgate Drive, has ponds that are stocked with bluegill, channel catfish and, occasionally, bass.
"I don't know if a lot of people know that the ponds are stocked," Hecker said.
The land for the 42-acre park was a gift from John McGrew, owner of Wakarusa Land Limited Co. It's named for Dawson-Billings, who taught in the Lawrence school district from 1960 to 1975.
The park is on a floodplain and is gated, but Hecker said people should just walk around the gate. Native grasses cover the areas around the ponds, including Indian grass, big bluestem and western wheat grass.
Lawrence Nature Park, 201 N. Folks Road
As a park set near the end of Folks Road, Hecker said this fairly new park seems to have few visitors.
"I think most people drive by it and think, 'I wonder what that's about,'" Hecker said.
This park was the result of a gift of land and purchases amounting to 100 acres filled with different varieties of trees, grass, limestone out-cropping and hills. Reservations for the shelter can be made at any of Lawrence's community recreation centers.
Parks such as this one offer a different type of learning for children who visit them.
"You get them out playing in the woods, just walking and see what you can find," Hecker said. "It's kind of nonstructured play."
KANZA Southwind Nature Preserve, Wildflower and Inverness drives
This park is hidden at the end of a dead-end street, but it opens up to a pond surrounded by pathways cut into natural grasses.
"You can walk around down there and not see anybody," Hecker said.
Hecker said it would be a good location for people in a walking club. But for some people, this open park isn't always the right choice.
"Different people like different things," he said. "Some people are looking for the standard playground."
Copyright 2018 The Lawrence Journal-World. All rights reserved. This material may not be published, broadcast, rewritten or redistributed. We strive to uphold our values for every story published.