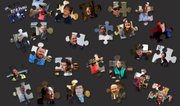 A special section honoring your neighbors, unsung heroes and people who do the little things that just make life better in Lawrence.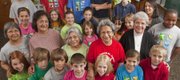 Read about the honorees for the 2011 Only in Lawrence: "About town" category.
For Aaron Turner, a job is not to be taken lightly.
The longest-tenured employee of the city of Lawrence's Solid Waste Division, Turner still finds enjoyment in his work after 45 years.
In 1966, Turner briefly left his wife and three sons in Hollandale, Miss., in need of employment.
"My youngest son was 3 days old when I left," Turner said. His nephews had been down to visit the family from Lawrence over the Fourth of July that summer, and he decided to leave with them in search of work.
Soon after arriving, Turner found himself homeless as his nephew had skipped out on rent. With no one to turn to, Turner ended up staying in South Park, but he was chased out by police officers. Luck was with him that day though, because while walking down Massachusetts Street, he ran into friends who offered to help.
Turner's friends took him to the city offices to find work.
"I didn't have an address to put on the application," Turner said. "So they let me use theirs."
They made good on their promise, too, offering him a place to stay until he could afford his own apartment.
The next day Turner began packing trash. Compared to his childhood in Mississippi, the new job was easy.
"There were 13 of us kids," Turner said. "My mother passed away soon after the last of us was born, so my father raised us."
To keep the family sheltered, clothed and fed, Turner's father worked on a farm. Turner remembers one day he and his siblings were stepping on to the school bus. The farmer who employed Turner's father drove up in his truck and demanded the children stay and work picking cotton. The father, worried of losing his job, made the kids stay and work. Turner himself got as far as the 10th grade.
Later Turner married a woman named Mattie, quite literally the girl next door. They had three sons. He knew he needed to find better work.
"We were only making $3 per 12-hour day on the farm driving tractors. When I picked cotton, I was paid $1.50 per 100-pound sack. You had to pick a lot of cotton to get 100 pounds," he said.
Working for the Solid Waste Division was much better. Soon Turner had moved to a house on the 1200 block of New Jersey. He had a friend who was traveling to Mississippi, and Turner paid the friend to bring his family to Lawrence.
Though the work was easier, Turner had to get accustomed to a new community.
"When I was growing up, I worked around my own people," he said. "When I came (to Lawrence), this job stretched me out. At first I didn't talk, I just worked. Through the years, I started mingling with everyone, and I learned that most of the people in Lawrence were different. I learned to care for people outside of my race."
This fellowship is evident as Turner's co-workers and supervisors file in and out of the room, exchanging jokes and referring to one another by nicknames.
"We joke around until we start work at 7 a.m. If I don't show up, they worry about me. We get along pretty good," he said.
Through the years, Turner has worked his way up in the division. Turner now works as an operator II, which means he operates the small packer trucks as well as the trucks that pick up 20-, 30- and 40-yard containers at commercial and business sites.
"It's a one-person operation," said Craig Pruett, solid waste operations supervisor. "It's the top level of that classification, so the responsibility is on him."
Lawrence has been a good fit for Turner and his family.
"I've been married for 50 years to Mattie," Turner said.
He's proud of his three boys.
"My sons don't know about picking cotton, and I thank the good Lord that they don't. They have their education, something I never had. I've learned more since I moved here than I did living in Mississippi."
Proudly Turner explains that all of his sons live in Lawrence, work hard and have houses and families. One of his sons even works in the Solid Waste Division with Turner.
At 68 years old, Turner plans to keep working. But upon retirement, he'll focus on his hobbies, fixing cars and singing in the choir at St. Luke's AME Church.
Copyright 2018 The Lawrence Journal-World. All rights reserved. This material may not be published, broadcast, rewritten or redistributed. We strive to uphold our values for every story published.