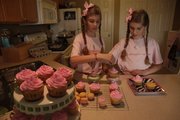 To order cupcakes
Email your order to cupcakesforkiddos@gmail.com by Tuesday.
Choose what you want. There's a six-cupcake minimum, but the girls can make any number more than that. Flavors available are vanilla or chocolate, with vanilla frosting.
Each cupcake costs $2, so the minimum order is $12.
Tell them if you want delivery or pickup. The girls will deliver cupcakes anywhere in Lawrence on May 5 or May 6 for a $3 fee. Pickup at their house is free.
Mail your check, payable to Cupcakes for Kiddos, to P.O. Box 442315, Lawrence, KS 66044. Cash is accepted too. All payments must be received by May 4 for the order to be completed. Those wishing to pay online by PayPal can ask for instructions in the email.
For those who don't live in Lawrence, the girls are also accepting donations.
The girls will also sell single cupcakes from 1 p.m. to 3 p.m. on Mother's Day, May 8, at Hy-Vee, 4000 W. Sixth St.
Ella and Liliana Keathley-Helms are grateful to live in a nice house with a great family and wonderful mother. So this Mother's Day, they're trying to help children — children they've never met, halfway around the world.
Ella and Liliana, 10, established Cupcakes for Kiddos, a nonprofit organization where the twins bake cupcakes for a good cause. This Mother's Day, they're holding a bake sale online to raise money for Amazima Ministries in Uganda. They will bake cupcakes and deliver them to Lawrence residents wanting to give their moms a sweet treat, or anyone who wants to help the children.
"We believe that a little thing can make a big difference," Ella said.
Ella and Liliana have been helping family members bake since they were toddlers, including baking pies in their grandmothers' kitchens. Their mother, Tasha, bakes custom cakes for the kids' birthdays, but also supplied the connection to Africa.
Tasha traveled to Africa while in school and teaches intro classes about the continent at Kansas University. The girls heard the motherhood story of Katie, an 18-year-old from Tennessee who moved to Uganda, adopted several children and then started Amazima Ministries.
"When she went there, a little girl asked her, 'Could I call you mommy?'" Liliana said.
The girls knew they wanted to help those children, who often can't attend the expensive schools or even eat regular meals. For each cupcake the twins sell, the money will provide 13 meals for Ugandan children.
"Some of them don't even have enough food or clean water," Ella said. "We're just helping other kids get what we can get."
The fundraiser hasn't been easy to organize, though. Neither the girls' school nor church allowed them to hold the bake sale, so the girls turned to the Internet. With their mother's help, they started cupcakesforkiddos.com.
Tasha said the sale was a good lesson in determination for the girls, but it was also about helping others. Both she and her husband, Derek, grew up with charitable parents who taught them to help others.
"We want our children to know we can't afford not to give," she said.
Copyright 2018 The Lawrence Journal-World. All rights reserved. This material may not be published, broadcast, rewritten or redistributed. We strive to uphold our values for every story published.