As a little girl, who doesn't dream of one day becoming a princess? Once upon a time, my sister and I spent hours watching Disney movies, playing dress up and prancing around our bedrooms in tiaras. To be sure, the announcement of Prince William's engagement to fellow Brit Kate Middleton has shattered hearts and princess dreams across the globe.
Read on to discover how to emulate Kate's personal fashion sense — you can still look like a princess after all.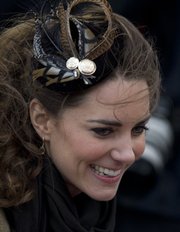 Casual daily wear:
Kate maintains a casual, daily wear style; however, by assembling classic separates, even basic blue jeans look chic and timeless. To achieve her preppy, everyday look, pair straight-leg denim or knee-length skirts with oxford tops and ballet flats. Keep accessories simple — a medium-sized tote and a conservative wristwatch will do.
Uptown style:
When Kate knows she will be in the public eye, she seeks classic, ladylike clothing pieces. Belted trench coats, fitted pencil skirts, monochrome shift dresses and crisp blazers are all essential wardrobe pieces. To achieve her dressed-up, polished style, tuck a soft, pastel-toned top into a waist-defining, neutral-toned skirt. Next, don a fitted blazer and black or nude pumps (if you'd like to further emphasize your feminine figure, also wear a belt that matches your heels). Finish the look with a firm, structured clutch and elegant earrings — but do keep the earring shape simple, nothing too bling-y or boho.
Looks for special events:
Kate often attends evening events that require more formal attire. For such functions, she leans toward monochrome dresses in smooth, flowy fabrics. For a similar look, pick a column dress or a draped dress with a v-neckline (nothing too deep). During spring and summer, be sure to pick dresses in lighter-weight fabrics that won't wrinkle or cling. The final part — and best part — of this ensemble? A funky, wide-brimmed hat, wild hairpiece or feathery/glittery headband! Kate almost always finishes this look with some elaborate headpiece. To find the perfect one, just follow two rules — keep the colors similar to your gown and position the hat or hair accessory off to the side. (She usually positions them on the bigger side of her part).
For more inspiration, check out dresses by Issa, one of Kate's favorite fashion labels, and look at headpieces by Vivienne Westwood Red Label Autumn/Winter 2011/12.
Copyright 2018 The Lawrence Journal-World. All rights reserved. This material may not be published, broadcast, rewritten or redistributed. We strive to uphold our values for every story published.