Photo Gallery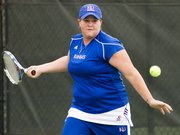 KU tennis vs. Kansas State
For Kansas University's tennis team, Saturday's home meet against No. 45 Kansas State was a lesson in taking advantage of opportunities.
The Jayhawks lost to the Wildcats, 5-2, at the Jayhawk Tennis Center, but the loss itself didn't bother coach Amy Hall-Holt much. She said she thinks K-State is a great team.
What bothered her was that a few Jayhawks gave away early leads in matches, leaving the Jayhawks wondering what could've been.
"We're looking forward to stepping back out on the court to regain and rebuild," Hall-Holt said.
The trend started early, when two of the three Jayhawk doubles teams led late in their matches. Junior Erin Wilbert and sophomore Sara Lazarevic finished first, losing to Kansas State's Karla Bonacic and Petra Chuda, 8-5.
The other two doubles teams held two-game leads in their eight-game sets.
Junior Ekaterina Morozova and freshman Dylan Windom lost five straight games to lose, 8-5. Sophomore Monica Pezzotti and freshman Paulina Los fell in a tiebreaker, 8-7.
"We are very strong in doubles," Hall-Holt said. "But I don't want to predict it before it's over. It would've been great going into singles with the doubles point."
In singles, Pezzotti won the first set in her match against Ana Gomez, but lost the next two.
Wilbert and Los picked up the singles victories for Kansas (9-12 overall, 3-8 Big 12). Wilbert defeated Chuda 6-1, 7-6. Los ended the day with a rousing 3-6, 6-3, 6-2 victory over Nina Sertic.
It was also Senior Day for Kate Goff and Maria Martinez. Neither played Saturday, but Hall-Holt said their off-the-court contributions will be missed.
"They have a lot of energy that they bring to practice," Hall-Holt said. "They definitely have their own mentality out here."
Hall-Holt is optimistic about Kansas' chances in the Big 12 Championships, which start Thursday in Waco, Texas.
Kansas State 5, Kansas 2
Doubles
Petra Niedermayerova-Nina Sertica, KSU, def. Ekaterina Morozova-Dylan Windom, 8-5
Karla Bonacic-Petra Chuda, KSU, def. Erin Wilbert-Sara Lazarevic,, 8-5
Ana Gomez-Carmen Borau, KSU, def. Monica Pezzotti-Paulina Los, 8-7
Singles
Niedermayerova, KSU, def. Morozova, 6-2, 6-2
Gomez, KSU, def. Pezzotti, 4-6, 6-2, 6-0
Bonacic, KSU, def. Lazarevic, 6-4, 7-6
Los, KU, def. Sertic, 3-6, 6-3, 6-2
Wilbert, KU, def. Chuda, 6-1, 7-6
Borau, KSU, def. Windom, 6-4, 7-5
Copyright 2018 The Lawrence Journal-World. All rights reserved. This material may not be published, broadcast, rewritten or redistributed. We strive to uphold our values for every story published.