Related document

KU-Texas baseball box score ( .PDF )
Photo Gallery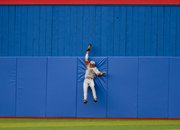 KU baseball vs. Texas
After his team scored a run in the bottom of the first inning against No. 4 Texas, Kansas University coach Ritch Price turned to pitching coach Ryan Graves in the dugout.
"Now, just shut them out," Price said jokingly.
KU's pitchers came close enough.
After allowing 18 runs in the first two games of the series, four KU pitchers held UT to just two runs in a 4-2 victory Saturday afternoon at Hoglund Ballpark.
That included 32⁄3 innings from relievers Scott Heitshusen, Wally Marciel and Colton Murray, who combined to allow no runs and also no hits with just two walks.
"They were outstanding," Price said. "Each one of those guys came in with somebody on base and found a way to get out of the inning. Once you have the lead, you've got to stop the momentum from (going) back in that dugout, and I thought our bullpen did that."
Tanner Poppe picked up the win, allowing two earned runs and seven hits in 51⁄3 innings.
The right-hander benefited from a slight adjustment made during a bullpen session Wednesday.
From looking at film of Poppe's last start against Missouri, Graves had noticed that the sophomore was flying open too soon, which caused his pitches to dive away from their intended location.
Poppe worked with Graves to stay closed with his front shoulder, and Poppe noticed a sharper break on his breaking ball because of the switch.
"I was really proud of him," Price said of Poppe. "He got into trouble, and when he did, he got out of trouble and made some big pitches with runners in scoring position."
Brandon Macias started KU's offense in the first with a towering home run to left field — his second homer of the year.
It was the Jayhawks' first leadoff shot since the 2009 season.
"They've got a great pitching staff, probably one of the best in the nation. They're not used to guys coming out and swinging like that," KU designated hitter Jake Marasco said. "When he did that on the third pitch of the game, it just sets the tone."
The Jayhawks added two runs in the fourth without an RBI.
With runners at second and third and one out, Texas reliever Kendal Carrillo bounced a pitch to the backstop, allowing Zac Elgie to score from third with a headfirst slide to give KU a 2-1 lead.
A few pitches later, Marasco also came home with a headlong dive following a passed ball on Texas catcher Kevin Lusson.
KU's first three runs were charged to Texas starter Sam Stafford, who entered the game with a 1.39 earned-run average.
Stafford (5-1) made it through just 31⁄3 innings. The junior left-hander hadn't allowed more than one earned run in any of his previous eight starts.
Texas (30-10, 13-6 Big 12) was led by Erich Weiss, who went 2-for-4 with a home run.
With the victory, the Jayhawks avoided a series sweep, remaining in fifth place in the Big 12 standings.
KU (20-20, 9-9) will play at Creighton at 6:30 p.m. Tuesday.
Copyright 2018 The Lawrence Journal-World. All rights reserved. This material may not be published, broadcast, rewritten or redistributed. We strive to uphold our values for every story published.