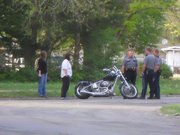 Forty six-year-old Charles Hale, Lawrence, was transported to a Kansas City-area hospital by Life Star helicopter after a motorcycle accident near the intersection of Harper and 17th streets about 6:15 p.m. Saturday.
According to Lawrence Police Sgt. Randy Roberts, Hale was traveling north on Harper and lost control of his motorcycle, hitting a curb. He sustained a head injury, though the injury is not believed to be life threatening. A Life Star helicopter transported him from the Douglas County Fairgrounds.
Hale was not wearing a helmet, according to Roberts.
Additional information regarding the accident and Hale's condition was not available as of late Sunday night.
Check LJWorld.com for updates.
Copyright 2018 The Lawrence Journal-World. All rights reserved. This material may not be published, broadcast, rewritten or redistributed. We strive to uphold our values for every story published.