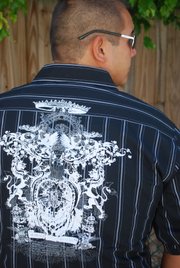 Name: Greg Low
Age: 26
Sign: Sagittarius
Occupation: Server/bartender
Relationship Status: Single
Hometown: Tonganoxie
Time in Lawrence: 20 years
What were you doing when you were scouted? Hanging out at a welcome home barbecue at my friend's apartment.
How would you describe your style? In the summer, pretty alternative/punk and in the wintertime, lots of layers. Thuggish.
What are your current favorite fashion trends? Men's accessories, including necklaces, watches and bandanas. But honestly, my style changes all of the time.
What are your least favorite fashion trends? Skinny jeans for men and women, and belts on stomachs — high-waisted belts?
What would you like to see more of in Lawrence? Music and food festivals, parades and concerts. Lawrence has such a great downtown, we ought to utilize it to the fullest.
What would you like to see less of in Lawrence? Homeless people on the street — more shelters to satisfy the population.
Do you have any fashion influences? When I was younger I was influenced more by the punk-rock scene, but now I'm pretty laid-back regarding fashion and style overall.
People say I look like… Jon Gosselin from "Jon & Kate Plus 8."
Tell us a secret: I am still the best Kubb player in Lawrence.
Copyright 2018 The Lawrence Journal-World. All rights reserved. This material may not be published, broadcast, rewritten or redistributed. We strive to uphold our values for every story published.