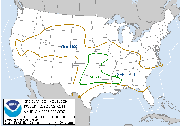 Kansas weather updates, via Twitter
Thunderstorms are expected to develop across northeast Kansas Thursday afternoon and evening, according to the National Weather Service.
Areas south of Interstate 70 may see small hail and lightning Thursday afternoon, but it's likely this round of storms will not be severe.
Another round of thunderstorms will develop Thursday night. These storms will be capable of producing quarter-size hail near and south of I-70.
Check back with LJWorld.com for updates.
Copyright 2018 The Lawrence Journal-World. All rights reserved. This material may not be published, broadcast, rewritten or redistributed. We strive to uphold our values for every story published.