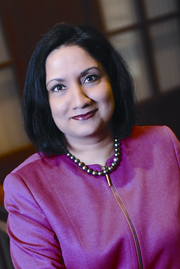 Kansas University leaders have hired a marketing professor from Ohio State University who earned her doctorate from KU to lead KU's School of Business.
Neeli Bendapudi, 47, will become dean of the business school on Aug. 1.
She said she looked forward to the opportunity to give back to the school that had given so much to her and her family. All together, her family members have earned seven degrees from KU, she said. She earned her doctorate from KU in 1994.
"I'm a true-blue Jayhawk," she said. "It sounds corny, but I'm completely serious."
KU Provost Jeff Vitter said she came highly recommended by her superiors at Ohio State, including President Gordon Gee.
"She is an extremely energetic person and a person full of ideas," Vitter said. "She is just a bundle of energy."
He said she had a unique skill set, blending academic experience with work in the corporate world. She served as the chief customer officer and executive vice president of Huntington National Bank from 2007 to 2008.
She also led the formation of the Initiative for Marketing Services at OSU, a consortium of companies that partner with the college on teaching, research and outreach regarding service management.
"We're just really excited about Neeli because she just hits on all cylinders," said James Guthrie, a KU business professor who co-chaired the search for a new dean. "And she's got that KU connection, which is a real bonus."
She said she would work to make the business school "an incredible place for students to learn" and a "great place for faculty and staff to work."
Working to lead through influence — and not just authority — is important, Bendapudi said, and she was looking forward to working with donors, faculty, students and other stakeholders.
Bendapudi will earn $350,000 in her new role, which would make her the highest-paid dean on the Lawrence campus. Her salary will include $60,000 in private funds to supplement $290,000 in state funds.
She will replace Dean William Fuerst, who announced in October that he would step down as dean and return to the full-time faculty. Fuerst had originally said he would step down effective June 30, but KU officials said on Tuesday no decisions had been made as to how the school would handle the gap between that time and Aug. 1, when Bendapudi will take over.
Fuerst, who had been making $308,000 as dean, will earn $195,962 in his new role. He stepped down soon after several MBA students raised concerns about how the school was spending additional course fees charged to business students. An audit report later said the school spent 99.8 percent of the funds appropriately.
Bendapudi said she had fielded a few questions on the differential tuition fees at a public forum at the school, but said she hoped everyone could move forward.
"My communication with them is we need to move ahead," she said. "What we need to focus on is what's coming up next."
Copyright 2018 The Lawrence Journal-World. All rights reserved. This material may not be published, broadcast, rewritten or redistributed. We strive to uphold our values for every story published.