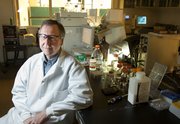 A $1 million gift from Gilead Pharmaceuticals will help Kansas University create a new endowed professorship in its School of Pharmacy that will be named for pharmaceutical chemistry professor Val Stella.
Stella — himself a distinguished professor — has a long record of achievement at the university, holds many patents and has co-founded three pharmaceutical companies. He said he felt honored that Gilead saw fit to support the professorship.
"It's great for the department, and hopefully it allows the department to carry on the legacy of my work," Stella said.
The $1 million contribution supplements other gifts already raised in support of the professorship.
"Gilead is pleased to recognize the numerous and significant contributions that Dr. Stella has made through his research, teaching and mentorship to the field of pharmaceutical science," said William Lee, senior vice president of research for Gilead Sciences in a statement. "We commend and thank Dr. Stella for all he has done to translate his findings into meaningful scientific and medical advances that have made a positive impact on the lives of patients around the world."
Stella said KU had placed a significant number of graduates at Gilead, a biopharmaceutical company with its headquarters in California.
Distinguished professorships play an important role at KU, Stella said. They provide an extra salary supplement that can be used to recruit talented faculty members or retain existing ones.
But it's more than just the money and the prestige, he said.
Distinguished professors are called upon to provide service to the university in the form of extra help for the chancellor and provost. Their research must rank among the top scholars in their field. KU has about 60 such professorships today.
Stella, who said he will likely be retiring in the next few years, has a university distinguished professorship, meaning that there's no guarantee that the pharmacy school would be able to keep his current professorship in its ranks.
The new professorship named for Stella will be housed in the pharmacy school, he said. He said he hoped it served as a testament to the continued strength of the school.
"I hope I played a little role in that," Stella said.
Copyright 2018 The Lawrence Journal-World. All rights reserved. This material may not be published, broadcast, rewritten or redistributed. We strive to uphold our values for every story published.