Jamie Knabe gave it her all. A small business owner, she gave it a go for four years, running a small scrapbooking store, Scrappers Paradise, first in Olathe and then in Lawrence's Holiday Plaza at 25th and Iowa.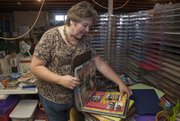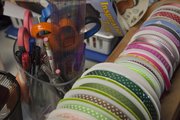 But Jan. 15, less than a year after opening in Lawrence, she closed, leaving her store's memory as one for the books.
"I was very excited also about being in Lawrence, it was just very hard in Lawrence. I think the economy had a huge play on that," says the Eudora resident, who is still contracted to create scrapbooks for customers.
Knabe's store was one of three in the past eight years that have shut their doors in town. It's hardly a great track record, and it's hardly unusual either, says Cameron Elliott. Elliott is the owner The Scrapbook Page, a store in Shawnee that has been open 11 years.
"Since we've opened, I think 25 other independent stores (came) and (went), opened and closed, just in the Kansas City metro. That's not counting Lawrence, that's not counting Columbia. That's not counting Topeka," he says. "It's a very competitive business."
Also since Elliott and his wife, Carolyn, opened their store, there has been a complete makeover in the memory business.
Where there used to be independent stores selling nothing but scrapbooking supplies, big-box stores added dedicated spaces to the craft.
Nine years ago, Hobby Lobby added supply sections to each of their stores, says Diana Hook, department of scrapbooking head for the Oklahoma-based chain's Lawrence store. She says the company started carrying scrapbook supplies in the craft department before the sort of expansion that has garnered the hobby a lot of retail space in the Lawrence store, 1801 W. 23rd St.
"It expanded so much that we have seven full aisles, plus, we have over 8,000 items in our scrapbooking department now," Hook says.
Also affecting the business — online retailers selling materials cheaply, and even websites like Shutterfly and Snapfish that make it easy to put together and order a 20-page digital photo book over a lunch break. Alyson Campbell, spokeswoman for Snapfish, says that the photo books are so popular that they are in double-digit growth year-over-year.
But both Elliott and Knabe say they believe the photo book customer, and even the digital scrapbooker — someone who makes pages online and then prints them out and adds them to a traditional scrapbook — are different types of artists than people attracted to traditional scrapbooking.
"The customer base that we see is really customers that prefer more of the handmade approach and they really prefer the textures and different embellishments that are three-dimensional verses the digital stuff," Elliott says.
Lawrence scrapbooker Erica Johnson-Wanzer agrees. She says that while she likes the digitally produced photo books, she loves the idea of working with her hands and creating. And, that, she says, is why though there might not be any more independent scrapbook stores in Lawrence, she believes the art of scrapbooking won't die here or anywhere else.
"I like to touch things. And I like my pages to be 3-D," says Johnson-Wanzer, who blogs about crafty things of all sorts at inkedupandreadytoplay.com. "I think those (digital books) are great because the people who don't think they're creative — at least they're doing something with their images.
"And that's the heart of scrapbooking, is that you're capturing those memories."
Copyright 2018 The Lawrence Journal-World. All rights reserved. This material may not be published, broadcast, rewritten or redistributed. We strive to uphold our values for every story published.