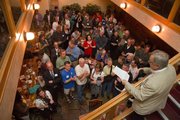 Lawrence's bond with its sister city Eutin, Germany, grew a little stronger on Sunday evening.
Free State Brewery, 636 Mass., tapped its first keg of the Eutin St. Michael's "Tafelbier" — an original recipe, compliments of the Eutin brewery.
A delegation of seven visitors from Eutin attended, including Wolfgang Nimmich, brewmaster and senior chef of St. Michael's, and Hans Wilhelm Hagen, president of the Volksbank Eutin and co-chairman of the Eutin Summer Opera Festival.
Andrew Toth, a Colby senior in civil engineering at Kansas University, took an internship opportunity through the school's student exchange program at the Volksbank in 2009. He said Hagen has been instrumental in strengthening the cities' relationships.
"For the longest time it was only one or two or three interns a summer. After Hans got involved, it's stepped up to be more like 10 interns a summer."
"Not only (can we) push our exchange programs a little, but the very special reason is there will be a new cooperation between the new Eutin summer festival and the KU School of Music," said Martin Vollertsen, chairman of Friends of Lawrence in Eutin, who also made the trip.
By helping revive the opera festival, which took a financial hit last year, Hagen and his colleagues made it possible for about 70 KU student musicians to travel to Eutin this summer for six weeks to perform "Don Giovanni" and "Hansel and Gretel."
Beer wasn't the only thing on tap at Free State on Sunday. Two students from the KU School of Music serenaded the crowd with a xylophone and stand-up bass.
Newly elected City Commissioner Bob Schumm, who signed the sister-city agreement with Eutin in 1989 as Lawrence mayor, was on hand to sample the new brew.
"I've been to Eutin three times myself. One year we gave them a Kansas barbecue. We took the ingredients for feeding 200 people in Eutin, Germany, in a Kansas barbeque, so it's kind of fun," Schumm said.
Toth expected more flavorful formula exchanges in the future.
"Hopefully it goes both ways," Toth said. "Hopefully they take a recipe back and brew it in Eutin."
Copyright 2018 The Lawrence Journal-World. All rights reserved. This material may not be published, broadcast, rewritten or redistributed. We strive to uphold our values for every story published.