Photo Gallery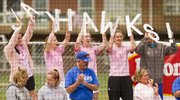 KU softball vs. Baylor
Related document

KU-Baylor softball box score ( .PDF )
A tough bounce here, an error there, and suddenly another game had gotten away from Kansas University's softball team.
The Jayhawks couldn't overcome three unearned runs in the first inning and were run-ruled, 8-0, by No. 15 Baylor in five innings on Sunday afternoon at Arrocha Ballpark.
"They understand we're coming out and playing ranked teams every time," KU coach Megan Smith said. "We keep telling them, 'Don't get discouraged. Keep working hard. Keep fighting.'"
Sure, the Jayhawks fought, they cheered and they still had fun on Pink in the Park day for cancer awareness, but the Big 12 slate clearly hasn't been kind to KU (28-17 overall, 1-13 in Big 12).
"It's very frustrating," Kansas' Maggie Hull said. "One thing our coaches are encouraging us to do is turn the page more, and that's something we have to work on more as a team."
For the second straight night, Jayhawks had an early deficit to deal with after a bit of tough luck in the first inning.
After a soft infield single to lead off the inning, Kristin Martinez retired the next two BU batters and issued a walk before Whitney Canion stepped into the box.
Canion chopped a slow grounder that spun past Martinez, forcing shortstop Mariah Montgomery to charge quickly and fire an off-balance throw to first — which pulled Laura Vickers off the bag.
Next up was Holly Holl, who pounded a shot to center that fell just beyond the reach of a diving Alex Jones.
Instead of a loud third out, it went for a three-run double that put KU in a 0-3 hole and sent Martinez to the bench.

"It's the game of softball," Jones said. "It's always the little things."
That proved to be plenty for the Bears (34-8, 7-3) who improved to 28-2 when scoring first, though they poured it on with towering home runs from Canion and Kathy Shelton.
KU's offense, meanwhile, never got much going against Canion.
Canion, who also earned the win in BU's 9-3 triumph Saturday, struck out nine for her 19th win of the year and only surrendered two walks and infield singles to Jones and Ashley Newman.
"Today her rise-ball was jumping up, which she didn't have yesterday," Hull said. "And that was something we weren't ready for coming in.
"We tried to make some adjustments late in the game, but it's hard when you only play five innings."
The Jayhawks play host to Tulsa on Wednesday in a doubleheader starting at 3.
Copyright 2018 The Lawrence Journal-World. All rights reserved. This material may not be published, broadcast, rewritten or redistributed. We strive to uphold our values for every story published.