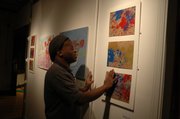 Art exhibit
"Dream Series" opened March 31 and includes a retrospective of works Aaron Johnson has created over his time at Kansas State School for the Blind. It will run through April. Call KSSB at 913-281-1133 to set up a time to see it. KSSB is at 1100 State Ave., Kansas City, Kan.
Aaron Johnson, 20, has not been able to see the world he lives in since he lost his sight to cataract surgery at the age of 13.
But his dreamworld is fantastical and detailed — and filled with color.
In Johnson's dreams, there are wish-granting fairy princesses and mythical creatures like a "girdle," or a creature that is half-girl, half-poodle.
There is also a royal kingdom made up of a golden, three-story high palace with stained-glass windows. The ground is pink, but the paths are purple. Ruling the kingdom is the fairy queen, who can decide to grant or take away a person's wishes as she chooses.
Johnson, a student at the Kansas State School for the Blind, is far from shy and will regale anyone who will listen with these precise details of his dreams in a charming stream-of-consciousness flow of words that is, at times, hard to follow and even harder to stem.
"I haven't known him to take much of a pause without being instructed to do so," says Beth Sarver, program manager with the Accessible Arts studio at the school.
Now, people have the opportunity to enter Johnson's dreams in person through his "Dream Series," a solo exhibition of his works inspired by the dreams he says he's had since just after he lost his sight.
Johnson, who is from New York, has been a prolific artist since his admission to KSSB six years ago. David Platter, a Kansas University graduate student who teaches in the Accessible Arts studio at KSSB, says Johnson comes to every class Platter teaches, even those in which he is not enrolled as a student. In the classes, Johnson creates clay sculptures, ceramics and flatworks made of crayon and wicky sticks, which are wax string art implements developed for visually impaired artists.
All of the works feature some scene from Johnson's fantasy world, which Sarver says may be made up of Johnson's waking and sleeping dreams, as well as his uninhibited imagination. Sarver can, for the most part, only speculate, since Johnson's mind is difficult to fathom: In addition to being blind, he has atypical (high-functioning) autism.
"After he lost his vision, he started having these dreams … likely those dreams came during the night and during the day and were how he coped with the loss of his vision and just a typical behavior of a young person," said Sarver, who has worked with Johnson for two years. "And then when you add the (element) of autism, where they focus in and get caught up in different things."
Magic, fantasy, technology
Though Sarver doesn't label Johnson a "savant," per se, she says the most well-known comparison to his condition would be the character Raymond Babbitt, an autistic savant, in the film "Rain Man." Like Babbitt, Johnson has over the years become so focused on such areas as magic and fantasy that if there were an expert on these topics, he might be it.
Technology is another great interest of Johnson's, and he frequently and easily uses technological terms like data, screen capture and progress bar to describe his dreams. For example, when describing the process of sending one's wishes for possible grant consideration in a dream, Johnson says, "If the progress bar goes up to 100 percent, the dialogue box changes the message … your wish has successfully been sent without interference."
"It's something that took me awhile to pick up on, but AJ assumes that we all understand what he means because it's a language that he's familiar with," Platter said.
In an interview prior to Johnson's exhibit opening, Platter said believing in magic over a religious belief system was a conscious decision Johnson made shortly after losing his sight. To which Johnson, who is affectionately referred to by all the staff at KSSB as "AJ," added in all seriousness, "I just reformatted my brain to the file system VTRMS: Virtual Royal Magic System."
For those who don't believe in magic, these thought processes of Johnson's might be hard to follow, but, Platter says, don't misunderstand — there is more to Johnson than originally meets the eye.
"Something that AJ's got that's pretty unique to just about any artist, but it's also kind of key to being a successful artist, is he's able to keep focused on a body of ideas," Platter said. "And he will bounce around; he's got a lot of different things going on, so at first sight it might look like he's scattered. But when you start talking about what he's doing and the ideas behind what he's doing, they're all very linear; they build off of each other and they need each other to exist."
Caveats and morals
From the works in the "Dream Series," in which Johnson himself is often depicted flying through the sky with mythical creatures and fairy princesses, the royal kingdom of his imagination seems as magical as he describes. Still, he says, there are some rules one must abide by: "Be careful what you wish for in your dreams," Johnson says, "'cause wishes can be permanent."
Also, and this is the most important rule to remember, "your wishes cannot work if you're going out to a strip club or going out to a bar, because if you've been drinking alcohol, your wish, your wish privileges will be taken away by the fairy queen," Johnson said emphatically, adding, "Don't ever use bad words or foul language that may cause social contamination, because you'll permanently lose privileges of making wishes … and you cannot smoke cigarettes either, and (you) should not do any of these harmful substances, 'cause (you should) always (make) smart choices."
Copyright 2018 The Lawrence Journal-World. All rights reserved. This material may not be published, broadcast, rewritten or redistributed. We strive to uphold our values for every story published.