Photo Gallery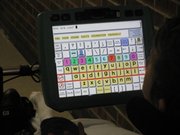 Kansas Neurological Institute under threat of state funding cuts
Topeka — Frances Sapp of Reading explains plainly what she believes would happen to her 43-year-old son Sammy if the Kansas Neurological Institute were closed.
"I think he would die or be hospitalized shortly after being moved," Sapp said.
Sapp was one of many parents and guardians of KNI residents who pushed back hard against a budget proposal by Gov. Sam Brownback to close within a two-year period the state hospital that serves people with severe mental and physical issues.
Brownback said his proposal would save money in the face of a looming $500 million budget shortfall. He said the residents of KNI could receive the help they needed in group homes in communities.
Both the House and Senate have rejected Brownback's plan for now. Still, legislators have yet to approve a budget for the next fiscal year. They return later this month to put a plan together.
And folks like Sapp are keeping a vigilant eye on what the Legislature decides.
Her son was born with Down syndrome and muscular dystrophy. He lived at home until after graduating high school and then his health worsened, she said. He cannot speak and breathes through a tracheostomy. He needs an emergency call light to summon for help because he could be dead within five minutes if he gets a mucus plug in his airway, she said.

In short, he requires round-the-clock attention, care and special treatments.
"The community homes don't have that," Sapp said.
Teamwork
Of the 156 residents at KNI, 90 percent have profound disabilities and the remaining have severe disabilities. Eighty-three percent cannot speak; 68 percent are unable to walk; 76 percent have seizures; and 85 percent require help to use the toilet and one-third are fed via tubes.
Ninety-four percent have lived at KNI for more than 10 years, and nearly half are older than 50 and four out of five are older than 40.
Since its start in 1960, KNI has changed with the times, moving away from an institutional setting to one where the resident is at the center and assisted by a team of people.
"It's a place where people feel very deeply about working here," said KNI Superintendent Barney Hubert.
In buildings spread over the 180-acre campus are 22 homes. Six to eight people live in each one, and they are served by eight to 14 support professionals led by a team coach.
"The staff takes great pride in the work that they do here," said team coach Christine Brady.
Her team even puts together scrap books for each of the residents. First-year employees undergo more than 300 hours of training, and each resident has a person who serves as his or her advocate.
KNI also has a medical center with nurses on site round the clock, a dentist, a physician on call, a pharmacy, X-Ray technician and many other professional services.
Many people with developmental disabilities who are in group homes come to KNI for medical treatment.
They also come to KNI to get assistive technology made in the "MacGyver" room. KNI also has a wheelchair clinic where chairs are adapted to the individual needs of each person.
In one building is the Hidden Treasures Mall, where 85 percent of the residents work in a number of retail shops open for public business.
Repeated attempts to close
KNI has been the focus of attempts in the past to shut it down.
Groups that advocate on behalf of those with disabilities have sought the closure saying it would be better for the residents, and the state could save money that could be spent on Kansans with disabilities who are on waiting lists for home-based services. Officials have also said the KNI property could be sold with money going toward those with disabilities.
KNI, which has 500 employees, costs approximately $29 million per year to operate with nearly $11 million coming from state general tax funds.
But the advocates usually come up against the parents and guardians of the residents who say the needed support in community-based groups homes is just not there.
In 2009, a state commission recommended closing it within three years and transferring residents to either more community- or home-based settings or Parsons State Hospital.
But then-Gov. Mark Parkinson rejected the plan.
"I agree that serving individuals in the community can lead to a better quality of life. In spite of that, I also have concluded that it is currently not feasible to close KNI and consolidate all residents at Parsons," Parkinson said.
"It will take time to reduce the populations at both facilities to a level that makes consolidation possible," he said.
Already part of community
Sapp says what most people don't understand is that KNI residents have frequent opportunities to interact in the community through shopping trips and social and recreational events.
"I don't think people really realize what KNI is," she said. "They think it is a dark place behind walls, but there are seven in my son's group, and they (the group) have their own kitchen, living room area.
"Each has their own home. When he is well enough, they will go to Walmart, a movie, the library, or they'll go fishing with us. They're not stuck behind dark walls. They're already out in the community," she said.
Copyright 2018 The Lawrence Journal-World. All rights reserved. This material may not be published, broadcast, rewritten or redistributed. We strive to uphold our values for every story published.