Dozens of area high school students visited local liquor stores Saturday morning, but they weren't trying to get anything. They had a message for of-age consumers: Don't buy alcohol for them.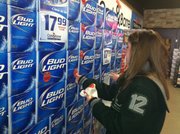 Teams of high school students, assisted by community agencies and organized by the Lawrence Youth Coalition, fanned out across town to place more than 1,000 warning stickers on cases of beer as part of Sticker Shock Lawrence.
"As a community, we're not going to support underage drinking," said Jen Jordan, one of the event volunteers and prevention director at DCCCA.
Free State High senior Sam Corkins, methodically slapping the warning stickers on cases of Keystone Light in the back cooler of Cork & Barrel, 2000 W. 23rd St., said raising awareness about underage drinking is needed.
"It just seemed like a good cause," he said. "Being in high school, you know there's a lot of this going on."
Local law enforcement, staff from the state's Alcoholic Beverage Control and numerous area liquor stores partnered for the event. Jordan said the idea for the project came from a 2010 survey of Lawrence youth that found 44 percent of area high school seniors had consumed alcohol in the past month, some of which was purchased for them by someone over the age of 21.
Jordan said she was impressed that students gave up their Saturday for the volunteer event.
Corkins, meanwhile, said it was worth it. He weighed the early weekend wake-up time against the positive message and free breakfast.
"It's a love-hate thing," Corkins joked.
Copyright 2017 The Lawrence Journal-World. All rights reserved. This material may not be published, broadcast, rewritten or redistributed. We strive to uphold our values for every story published.