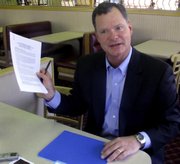 Topeka — The leader of a high-profile economic development agency resigned Friday in the face of a criminal investigation and criticism from Gov. Sam Brownback.
But Tom Thornton's sudden departure as president and chief executive officer of the Kansas Bioscience Authority didn't stop Brownback's attack on the KBA's leadership.
Brownback called for an "independently overseen forensic audit of KBA," and a new president and CEO "who has no ties to the current regime." Last week, the KBA agreed to hire a firm to conduct a forensic audit, but Brownback has said he still isn't satisfied.
Thornton silent
Thornton, the first and only president and CEO of the KBA, gave no reason for leaving the $265,000 per year job. He was hired in 2006 to lead Kansas' bioscience development efforts, but has been under fire for several months. Funded through tax dollars collected from the payrolls of existing companies, the KBA is responsible for spending $581 million to lure bioscience companies and research to the state.
Sen. Susan Wagle, R-Wichita, and chair of the Senate Commerce Committee, criticized Thornton's salary and bonuses. During committee hearings, Wagle alleged Thornton had conflicts of interest in his agency dealings. Also questions were raised about Thornton's wife who also had worked at the agency and made more than $100,000 per year.
KBA officials, led by board chairman John Carlin, a former Democratic Kansas governor, defended Thornton's salary as appropriate for the job, and said Wagle's accusations of conflicts of interest were based on incorrect information.
Wagle then revealed that the Johnson County District Attorney's Office was conducting an investigation into the KBA. Prosecutors have refused to comment on what is being looked at.
Again, KBA officials said the agency had done nothing wrong but then Brownback, a Republican, stepped into the fray, criticizing the agency.
Legislators supported Thornton
Despite Brownback's statements, Thornton has enjoyed bi-partisan support from legislative leaders, who have said his efforts were instrumental in helping Kansas land the $650 million National Bio- and Agro-Defense Facility.
Senate President Steve Morris, R-Hugoton, Vice President John Vratil, R-Leawood, and Senate Majority Leader Jay Emler, R-Lindsborg, each released statements on Friday praising Thornton's leadership.
"Tom Thornton has raised the Kansas Bioscience Authority to its status as one of the shining lights in Kansas, a program that has become the envy of other states," said Morris.
The Kansas chapter of Americans for Prosperity weighed in, blasting Thornton and Senate Republican leaders who have defended him. Americans for Prosperity was founded by billionaire David Koch, leader of Wichita-based Koch Industries, and is a major sponsor of the Tea Party movement.
"The protection given Thornton by Senate leadership even after his resignation today is astonishing," said Alan Cobb, vice president of state operations with Americans for Prosperity. "The question is what else is being hidden and why are Morris and Vratil so willing to fall on their swords for Thornton and his corrupt behavior."
Vranicar named interim CEO
Thornton's resignation announcement came after a KBA board meeting on Friday.
David Vranicar, who has been president of the KBA's commercialization arm, was named the agency's interim president and chief executive officer.
"The state can be rightfully proud of the organization Tom helped build," board chairman Carlin said in a prepared statement.
"He assembled and guided a stellar team of professionals who represent an innovative, independent agency that is envied by many other states across the nation. Tom will remain in contact, which will be helpful to us in the transition process. We are grateful for his service and wish him well in his future endeavors," Carlin said.
On Friday, Sen. Wagle said Thornton's resignation "resolves only one of the problems my committee has been addressing."
She declined to provide more details, citing the criminal investigation.
"There is clearly a problem within the agency," she said. "We have a lot more questions."
Wagle's Commerce Committee is scheduled to continue meetings on the KBA when the Legislature returns to session on April 27.
In his resignation letter to Carlin, Thornton said, "The KBA is hailed across the country as a model for bioscience development and the envy of other states."
Thornton reviewed some of the KBA's accomplishments, including helping secure the National Bio and Agro-Defense Facility, which will be built in Manhattan. He said Kansas has become positioned as an international leader in animal health research, while gaining national recognition in drug and bio-energy research.
He did not give a reason for his resignation and ended the letter with the state's motto: "Ad astra per aspera," which means "To the stars through difficulties."
No severance deal
Wagle said she wanted to know how much Thornton's severance package would cost taxpayers.
In an interview with the Journal-World, Carlin said there was no severance package, and that pay to Thornton ended Friday.
When asked why Thornton resigned, Carlin said he didn't feel "comfortable" commenting on that. He said Thornton has another employment opportunity that may be announced later. Carlin said Thornton was in high demand. "I'm not surprised that somebody else is going to be wanting his services," he said.
Democratic legislators have said Brownback wants control over the KBA, an allegation that the governor has said isn't true. Carlin declined to speculate.
"The governor has certainly shared some thoughts and concerns, but the focus right now is getting these rumors cleared up," Carlin said.
Carlin said the board would probably hold off starting a search for a permanent president and CEO until after the audit and investigation have been completed. He said he had full confidence in the KBA's staff.
"One of the good things is Tom put a great team together," he said.
Copyright 2018 The Lawrence Journal-World. All rights reserved. This material may not be published, broadcast, rewritten or redistributed. We strive to uphold our values for every story published.