News and notes from around town:
• Really, First Watch fanatics, the popular breakfast restaurant on South Iowa Street is going to reopen. Ever since we reported in early March that First Watch had temporarily closed its location at 2540 Iowa St., there have been lots of questions about whether the restaurant is going to reopen. We were told early on that the restaurant was going to reopen. But as the sunrises were piling up, the sunny-side eggs did not, and people became skeptical.
Well, Chris Tomasso, the chief marketing officer for First Watch, has confirmed to me that the restaurant signed a long-term lease for the 2540 Iowa location on Tuesday. Construction crews should be on site today to begin a remodel of the interior space. Tomasso said the restaurant will reopen sometime in May.
"We're looking forward to staying there for a long time," Tomasso said.
The Lawrence location was one of the few franchise operations for First Watch. The franchisee, however, had to unexpectedly close the restaurant for personal reasons in March. First Watch officials said they liked the Lawrence market but had to do some administrative work to get the location transferred over to corporate ownership.
With the restaurant already closed, Tomasso said the company decided to give it a complete remodeling. The interior will be converted to a new prototype design that First Watch is using in several other markets. The menu, however, will not change. Tomasso said Lawrence residents made it very clear that they liked what First Watch was previously offering.
"Since that restaurant closed, the outpouring of support and inquires from Lawrence has been great," Tomasso said. "The passion for it has really been overwhelming. We're moving as quick as we can to reopen."
• After seeing Theatre Lawrence's lineup of shows for next season, I decided to get in touch with Mary Doveton — the theater's director — to find out the latest on the group's efforts to raise $6.2 million for a new theater building near Sixth and Wakarusa. Doveton told me the effort is entering a critical stage. Doveton said Theatre Lawrence — formerly known as the Lawrence Community Theatre — has raised $4.5 million. That's up from $4.2 million the theater had raised in October.
But now the theater must get pledges for the remaining $1.7 million before Sept. 30, or else the theater likely will lose $1.5 million worth of grants that have been previously pledged.
"It is going very well and people have been very receptive," Doveton said. "People are excited about the campaign, but we still have work to do."
As we previously reported, the new theater would be a showcase building for West Lawrence and the Bauer Farm development that sits in front of Free State High School. Lawrence-based Treanor Architects has designed a 300-seat theater that would almost double the seating capacity of the current theater at 15th and New Hampshire streets. The project also would include a parking lot for about 135 vehicles, and an education wing that will include classrooms for the theater's growing youth program.
Theater leaders would like to start construction by the winter and be open in early 2013.
• It was a night of pomp and circumstance Tuesday evening at City Hall, which is fairly rare anymore. There are several Tuesday evenings where I'm the only person at a City Commission meeting wearing a tie, but last night city leaders put on their finery to send off two city commissioners who did not seek re-election. It is tradition for city commissioners to say a few words about those who are leaving the commission. It is always interesting to see how the commissioners characterize the terms of those leaving.
Tuesday night, there was a clear theme commissioners sounded about departing Commissioner Rob Chestnut. One after the other, commissioners praised Chestnut's ability to analyze numbers and budgets. During his four-year term, it was rare to have a budget discussion without Chestnut bringing up a new question or a new way to look at the numbers.
"Things happen for a reason," said City Commissioner Mike Dever, who came on the commission with Chestnut four years ago. "I think having Commissioner Chestnut here during these financial times made all of us on this commission sleep better at night."
If I were forced to wager, I would bet that you'll see Chestnut involved in local — or maybe even state — politics in the not-to-distant future.
• One other item left over from my City Commission notebook. I had a good interview with new Mayor Aron Cromwell, and he had an interesting thought on how Lawrence politics are evolving.
In the past, he noted, the balance of power on the City Commission seemed to swing like a pendulum. One election cycle the commission would be heavy with commissioners labeled to be in the "progressive camp." The next election cycle it would be heavy with commissioners sometimes derisively labeled to be "chambercrats." Cromwell said it seems like that pendulum doesn't swing near as much as it used to. He said he thought this year's group of candidates were more tightly bunched ideology-wise than any in quite awhile. He doesn't anticipate a major shift in ideology with this new commission. He said if Lawrence's "swinging days" are subsiding, that's probably a positive.
"If you get too far over and drink either group's Kool Aid too much, that's not good, in my opinion," Cromwell said. "I'm glad we're not seeing that big swing anymore. You just don't end up accomplishing much by doing that. I hope we're finding some middle ground."
• We previously reported that Kansas University basketball player Brady Morningstar received 50 write-in votes for the Lawrence City Commission during the last election. But what the others? Did he have any real challengers to be champion of the write-ins?
Not really, but there were lots of people who received one or two votes. Several have been political players in the past — and who knows — maybe some will be in the future. Here are a few names that caught my eye: Former Mayor Boog Highberger got three votes; longtime East Lawrence neighborhood leader K.T. Walsh, 2; former Mayor Mike Rundle, 2; Lawrence architect Allen Belot, 1; Reuter Organ executive Albert Newtel, Jr., 1; KU basketball coach Bill Self, 1; former city commission candidate and Santa Fe Depot restoration cheerleader Carey Maynard-Moody, 1; former planning commissioner David Burress, 1; former city commission and school board candidate David Holroyd 1; former city commissioner Dennis Constance, 1; fitness guru Don "Red Dog" Gardner, 1; former city commission candidate and Lawrence Association of Neighborhood president Gwen Klingenberg, 1; former city commission candidate Jim Carpenter, 1; former mayor John Nalbandian, 1; former City Manager Mike Wildgen, 1; Laura Routh, a frequent City Hall commenter on trash and police issues, 1; bar owner and Oread Neighborhood Association president Rob Farha, 1; KU basketball player Tyrel Reed, 1; and last but not least, longtime Journal-World reporter Mark Fagan, 1.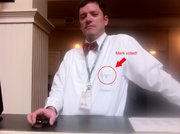 Oh, imagine that, a dose of bow tie wisdom on a Tuesday night.
Copyright 2018 The Lawrence Journal-World. All rights reserved. This material may not be published, broadcast, rewritten or redistributed. We strive to uphold our values for every story published.