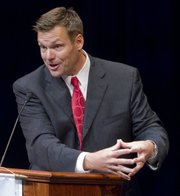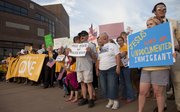 Kris Kobach: Questions and answers
Hundreds of Kris Kobach critics waited outside the Lied Center on Kansas University's West Campus on Tuesday evening to let him know what they thought of his work with anti-immigration legislation.
Kobach, Kansas Secretary of State, lectured as part of the J.A. Vickers Sr. and Robert F. Vickers Sr. Memorial Lecture Series.
Kobach is known nationally for his work in helping to draft the Arizona anti-immigration policy, which has been called the most broad and strict policy at the state level. Since taking office in January, he has focused on introducing similar legislation in Kansas focused on immigration policy and voter fraud. His lecture Tuesday was titled, "State and Local Laws Discouraging Illegal Immigration: Their Economic and Security Impact."
Bill Dymacek was among the members of the outdoor crowd, many of whom held signs in protest of the Kansas Secretary of State.
"This immigration thing is just the smoke screen in my opinion," Dymacek said. "I'd have more respect for him if he'd be honest about it and just say this is a chance to get fewer minorities to vote because they tend to vote more Democratic and it's more votes for Republicans."
While the crowd engaged in chants such as "No hate in my state," "Educate don't discriminate" and "No one is illegal," the participants remained peaceful. Members of the Lawrence Action Network for Diversity were trying to educate those attending the lecture on the bigger picture.
"We're well overdue for a big policy change," group member Tanya Golash-Boza said. "What's happened is states have taken it up, which is not a good idea. We certainly don't want to waste money on something the federal government needs to take a stand on and figure out a way to legalize."
Inside the Lied Center, there was much more support for Kobach's ideas and proposed legislation. Kobach talked about the actions he believes states should be taking on immigration issues. He also touched on what makes states successful in implementing those actions as well as the legal ramifications of such legislation. Kobach, who is Ivy League educated, also cited numerous state statistics on illegal immigration in Kansas, highlighting what he believes to be the serious issues.
Among those numbers, Kobach said an estimated 70,000 illegal aliens currently reside in the Sunflower State. He called Kansas a "destination state" and a "passage state" for illegal immigration. Kobach also addressed issues of financial ramifications endured both by allowing illegal immigrants to stay and returning them to their home countries.
"We're at a dangerous point in this country," Kobach said. "But the struggle is a long way from finished."
The attendees inside the Lied Center, a mix of Kobach supporters and critics, listened intently to his message and his answers to questions submitted by those in attendance.
Jim Hermesh, along with his wife, Laurie, and son C.J., sported shirts supporting the elected state official.
"We support Kris because he speaks the simple truth," Hermesh said. "There are a lot of people that feel very passionately. If your mind is closed because of ideologies or whatever reason, there's no hope for you."
Tuesday night's lecture was the 42nd in the Vickers Memorial Lecture Series. The event was hosted by the KU School of Business.
Copyright 2018 The Lawrence Journal-World. All rights reserved. This material may not be published, broadcast, rewritten or redistributed. We strive to uphold our values for every story published.