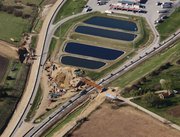 Traffic on the Kansas Turnpike is down to one lane at the service center east of Lawrence.
The Kansas Turnpike Authority is working to replace a section of 1950s concrete road between mile markers 208 and 211. The Lawrence Service Area will remain open during the construction.
Rex Fleming, engineer and project manager for KTA, said the project, which started last spring, should be finished by November. Crews have pulverized the concrete and graded the road, and they will soon bring in the crushed pavement to lay a base.
"Within a few weeks we'll start laying asphalt," he said. "We still have the other side to go."
The project includes rebuilding bridges that crossed the service station on- and off-ramps. Crews are extending the ramps for safer entry and exit, and the bridges were not tall enough for cars to drive under.
Fleming said they would be moving traffic from lane to lane to keep the service station open.
The KTA is also completing construction on exit 204 in Lawrence. At 7 a.m. Thursday, traffic exiting westbound will be switched to the new, permanent ramp. It's hoped, Fleming said, that traffic heading west onto the turnpike will be switched to a new ramp Monday morning.
Copyright 2018 The Lawrence Journal-World. All rights reserved. This material may not be published, broadcast, rewritten or redistributed. We strive to uphold our values for every story published.