The best part about dressing for a new season is wearing your clothing—new or old—in a different, unique, updated fashion. For Spring 2011, let your creativity run wild. Be energized by the arts and crafts of your youth. Think about new ways to wear outfits and utilize accessories in a nontraditional manner, from your grandmother's pearls to your husband's briefcase.
Graffiti:
Look out for graffiti-esque apparel. No longer just for your old Converse sneakers—search for tops, jeans, and dresses with artsy doodles and fun scribbles. Transform part of your outfit into a walking canvas by displaying whimsical, printed, wearable art. Graffiti blouses or jeans are easiest to pull off in lighter shades, the pattern printed on faded white and crème clothing. Offset your graffiti pieces with bold-colored separates. This will give your outfit clean lines and balanced shape overall.
See graffiti print sneakers by Reebok and separates by Alexander Wang for graffiti accessory and apparel inspiration.
Pearls: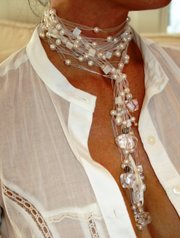 Pearl necklaces, bracelets, and other jewelry items have been back in-style for quite some time now, recreated for a more youthful audience. They are no longer to be reserved for strictly formal events—now pearls are popular as daily wear, an everyday accessory. For the most modern look, pick out jewelry that showcases pearls in an original, unique manner. The piece should introduce other unexpected materials and elements into the strand. I like whimsical jewelry materials, like ribbons and lace, or pieces that juxtapose two or more unexpected material combinations, like dark, raw metals next to fresh water pearls.
See glass pearl necklace by Roxanne Assoulin for Lee Angel and metal and faux pearl necklace by Simply Vera Vera Wang for two hip versions of updated pearl necklaces.
Attaché Purse:
I have been on a longtime hunt for a purse or a tote that is just so—large enough to store my laptop and the contents of my purse, sophisticated, and feminine. A modern attaché case is the perfect solution. Luckily, they are no longer for ambassadors and military related occupations! Personalize your work look with a fashion-forward attaché. Pick one with a comfortable shoulder strap and a sturdy, usable top handle.
There are endless varieties available—for such an essential, functional wardrobe item, I recommend you go with your gut. Right now, I am drawn toward chain straps, oversized buckles, mixed materials, and bright colors—it is spring after all!
Copyright 2018 The Lawrence Journal-World. All rights reserved. This material may not be published, broadcast, rewritten or redistributed. We strive to uphold our values for every story published.