Photo Gallery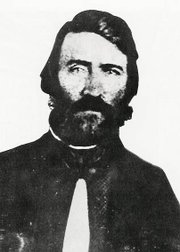 The sacking of Lawrence and Quantrill's Raid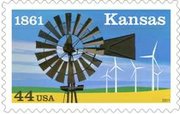 The State of Kansas celebrated its sesquicentennial (that's a fancy word for "150th birthday") on January 29, 2011. LJWorld.com has compiled a collection of stories, photos and documents about Kansas history from the Lawrence Journal-World and the Wichita Eagle.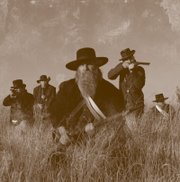 Stories and resources compiled for the 150th anniversary of the historic battle near Baldwin City where many say the Civil War began.
When news broke of shots fired on Fort Sumter and the proclamation of war that followed, the residents of Lawrence greeted it with excitement — and as a call to action.
More than 80 men joined the Independent Company of Mounted Riflemen, led by Captain Samuel Walker. The company anticipated the quick arrival of carbines, pistols and sabers from the arsenal at Fort Leavenworth.
And a Lawrence newspaper, The Kansas State Journal, noticed that "everybody that has a piece of ground that can be plowed or otherwise cultivated, is devoting it to the useful, if not political purpose, of raising potatoes, onions, beans, peas."
Long a hotbed of violent activity between abolitionist and pro-slavery forces, Lawrence of 150 years ago was ready for the history-transforming events that transpired on April 12, 1861.
"Lawrence was immediately thrown into supporting the Union cause," said local historian Katie Armitage, who recalls reading one newspaper headline that noted "Lawrence aflame with Union spirit."
Although for different reasons, excitement has returned to Lawrence as plans are under way to commemorate the Civil War's 150th anniversary.
Over the course of the next few years, expect to see more exhibits and events that highlight the region's connection to the Civil War.
"We aren't reading about something that happened in Virginia and Georgia. The people that founded our community and the places we walk past every day have connections to the history of our nation," said Steve Nowak, director of Watkins Community Museum of History and the Douglas County Historical Society. "That makes it really exciting to be in western Missouri and eastern Kansas at this time."
Many of Douglas County's ties to the Civil War took place in the years before Fort Sumter, punctuated by skirmishes between the Missouri and Kansas border that involved shootings and sackings on both sides.
In fact, some believe that the first gunshots of the Civil War were fired five years before Fort Sumter at the Battle of Black Jack, which is now a wooded grove just east of Baldwin City.
"It didn't just start with the first shot at Fort Sumter. There were a lot of things going on that led up to that and a lot of that happened here," said Judy Billings, Freedom's Frontier National Heritage Area executive director.
Without a doubt, Lawrence's defining Civil War moment came in 1863 when William Quantrill raided the town, killing more than 150 men and boys.
That event will be one of the many commemorated during the next four years.
On July 2, Freedom's Frontier will open an exhibit in the former Carnegie Library, which will highlight the region's American Indian, territorial, Civil War and civil rights history.
Annual commemorations of the area's Civil War heritage — the Battle of Black Jack in June and Quantrill's Raid in August — will be ramped up this year in honor of the war's 150th anniversary.
In August, the Watkins Museum plans to open an exhibit highlighting the evolution of downtown Lawrence from a business to retail to entertainment district. The legacy of Quantrill's Raid will be prominently featured in that display.
In the fall or next spring, the museum is also looking at bringing in scholars for a speaking series that will explore the Civil War, Nowak said.
And, discussions have already begun on how to best commemorate the 150th anniversary of Quantrill's Raid in 2013.
Both Nowak and Billings said more events are likely to come.
"There are new things popping up all the time," Billings said.
Copyright 2018 The Lawrence Journal-World. All rights reserved. This material may not be published, broadcast, rewritten or redistributed. We strive to uphold our values for every story published.