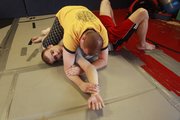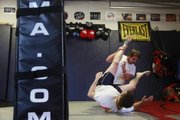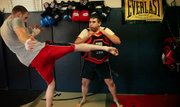 Mark Farr has seen people lose their teeth in his garage. He's broken a toe, and he's had friends pop their knees out of place or dislocate their ribs. But none of those friends was upset about the injuries.
The walls and floor of Farr's garage in Eudora are lined with padding. It's where three to four times a week area men meet to practice mixed martial arts, or MMA. They call it "garage club."
"Not a lot of people think getting kicked or punched or choked or tapped out is fun, but we do," said Clint Moncrief, one of the club's organizers.
Moncrief, 38, met Farr a year ago, when he chided Farr for driving through his neighborhood too quickly. The two discovered a shared love for MMA, and Farr offered to let Moncrief work out in his garage. The club was born.
"It keeps me in shape," Moncrief said. "It keeps me prepared for the bad guys."
Anywhere from six to 15 people meet in the garage a few times a week, practicing techniques, working out and sparring. MMA combines multiple styles of fighting, including karate, muay thai, jiu jitsu, kickboxing and wrestling.
Moncrief said more established clubs often look down on garage clubs, saying members just practice moves they watched on YouTube. But Moncrief said each member brings his own knowledge to the club, and a few have fought in MMA cage fights.
"We're actually getting a little bit of quality training," Moncrief said. "None of us are black belts or professional instructors, but we try to help each other out."
Craig Welch, 33, won a light heavyweight amateur MMA belt in 2008. He intended to fight only once to try it out, and ended up taking 14 fights instead. Welch instructs the younger fighters on technique.
"If you don't train, you'll get murdered out there," he said.
But proper technique doesn't always prevent injury. Welch once had to stop fighting in Colorado to get multiple stitches under his eye. He's also been kneed in the face. But injury is part of the game, and Moncrief said it's something fighters get used to.
"We don't mind having the other guy punching you in the nose," he said. "It's worth it as long as nobody ends up in the hospital. We're not trying to hurt each other."
Between punches to the nose and knees to the face, the men at the gym have formed a bond. The club is boys-only, by the rules of Farr's wife. The guys are lucky enough to practice there for free, although Moncrief leaves a tip jar on a shelf for help with bills.
The workout equipment — a heavy bag, two speed bags, a grappling dummy, weights — was brought there by club members.
"It's like a pot luck of workout equipment," Welch said. "We're all friends, with the garage dojo."
Moncrief said it's great for people who might not be able to pay the monthly bill for commercial clubs, and many just want to stay in shape. In fact, Moncrief used to train in martial arts, but fell out of practice. He decided to start again so he could keep up with his kids, and eventually became hooked.
All the other guys are hooked too, despite the pain they could endure. Some members, most whom are in their mid-20s, were high school wrestlers, and others started karate as youngsters or have taken MMA fights. They all have the same goals, though: stay in shape, learn MMA techniques and stay out of the hospital.
"Some of it is painful," Moncrief said, "even in practice."
Copyright 2018 The Lawrence Journal-World. All rights reserved. This material may not be published, broadcast, rewritten or redistributed. We strive to uphold our values for every story published.