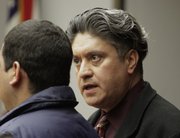 James Calderón sits patiently in a chair in the front row of the gallery of a Douglas County courtroom waiting for the parties and District Judge Kay Huff to start the hearing.
He's wearing a dark jacket and tie, and he's carrying a black leather bag that includes his worn out Wiley's English-Spanish and Spanish-English Legal Dictionary.
The book's binding is held together with several pieces of clear packaging tape, but the Spanish interpreter says the dictionary is invaluable, especially if he comes across a legal term he needs to look up as he interprets for clients.
Assistant Douglas County District Attorney Catherine Decena Skinner walks in and sees Calderón.
"I'll try not to talk so fast this time," she says.
In the middle of a hearing a week earlier in the same domestic battery case, Calderón had to raise his hand to ask Huff to have Skinner slow down when she was speaking so he could more easily translate the exact words to the defendant.
Calderón smiles and cordially says thank you to Skinner.
"It's OK. I had coffee before I came here," Calderón says as they laugh.
Minutes later the defense attorney and Huff enter. The judge calls the case and reminds Calderón that he's still under oath, and the parties begin the hearing.
It's mostly the attorneys and judge talking over matters, but you can hear a soft sound, slightly louder than a whisper in the background.
Calderón with his hands in his pockets stands next to the defendant, Porfirio Pascual Secundino. He's detailing every word that's said in court in Spanish directly into Secundino's ear.
Defense attorney Jason Billam is careful to speak a few words or a sentence at a time with pauses built in. His voice also carries.
And, as promised, Skinner is speaking more slowly than she was a week earlier.
Calderón says he often looks at the floor or something on the wall as a way to focus on what he's hearing. If things go smoothly, he's usually only a few seconds behind what's being said in English.
This hearing lasts only a few minutes, but Calderón, a Lawrence resident, has handled much longer ones. Last fall he interpreted a sex crime trial that lasted for several days, including the testimony of the defendant — during which he had to interpret the questions from the attorneys in English to Spanish and then the defendant's responses in Spanish to English for the court reporter, jury, attorneys and the judge.
He prides himself on interpreting every word that is said and not trying to add anything or put something in his own words. And he's not afraid to ask for a pause in court proceedings.
"It's important. It is like public speaking," Calderón says. "It is like being someone who is on stage, and you have to have a little bit of confidence to do that."
Full-time job
He is one of a few Spanish interpreters who frequently works in the local courts and with area agencies, including at Lawrence Memorial Hospital. It's a profession in demand.
According to the 2010 Census, Lawrence's Hispanic population grew, making up 5.7 percent of the local population, or 5,006 people, from 3.6 percent or 2,921 people in 2000. The state's Hispanic population increased from 188,252 (7 percent) to 300,042 (10.5 percent) in the last 10 years, especially in southwestern Kansas.
His time as a court interpreter is pretty much a full-time job. Calderón helps translate either during hearings or conversations among defendants and their attorneys in Douglas County several times a week — something he's done regularly since 2003. His other main court interpreter duties include Miami County District Court and U.S. District Court in Topeka. In the past he's interpreted in many jurisdictions in Kansas and Missouri.
He helps when he can as a Spanish interpreter in the medical field. Last week he interpreted for someone undergoing physical therapy. He's also interpreted via satellite for Cuban inmates in custody of the U.S. Bureau of Prisons when they undergo psychiatric evaluations with a doctor in the Kansas City area.
Calderón also gets work when he can translating letters and documents. Now he's helping translate a letter from a church in Venezuela to the Archbishop of the Anglican Church of England.
Calderón, 43, lives just west of Lawrence with his wife, Marta Calderón-Schwartz, a local massage therapist, and their 6-year-old son, Ivan Valentino Calderón.
One of his first main interpreting jobs didn't come from the courtroom at all. He was looking for work in the mid-1990s when owners of Wheatfields Bakery and Café asked him in 1995 to translate for master mason Manuel de la Rosa of Barcelona as a crew constructed the oven at 904 Vt. Beyond translating, Calderon also helped build the wood-fired oven.
Roots
Calderón has a personal connection to his work. He was born in Colombia and moved with his family to New York when he was 3 and later to Overland Park, where his father worked as a cardiologist in Kansas City, Kan. The Calderón household was bilingual.
He attended KU and studied abroad in Paris but didn't finish his degree. He's moved back to Lawrence twice, most recently in 2003.
Many of his clients and defendants he interprets for are from Central America.
"I love to do what I do. I love people," Calderón says. "And I was raised by parents that really put in our hearts to be compassionate to other people."
Kevin Babbit, a Lawrence attorney, said Calderón works to tell his clients word-for-word what an attorney says and vice versa. If he needs to explain something in more detail in Spanish, he asks the attorney's permission.
"There are a lot of interpreters. James is one of those who does it exactly how an attorney and exactly how the court wants him to do it," said Babbit, who has worked with Calderón for more than 12 years here and in other counties.
Calderón wants to fulfill not only the oath he's administered every time he's in court but a more detailed one for interpreters.
"I'm there to interpret everything that's said completely and accurately without omitting anything, without changing anything, without paraphrasing and certainly to never, never ever give my own opinion or offer any kind of advice," he said.
He aims to be an impartial communicator. His work can often be overlooked with the magnitude of a court proceeding, but he knows his job is important.
Making an impact
A story that sticks with him doesn't come from the courtroom, though. A few years ago, he was called by the Midwest Transplant Network to Kansas University Hospital in Kansas City, Kan., in the middle of the night to translate for a family of a man who had been shot in the head.
The man died due to brain damage, and he had to relay the doctor's wrenching message to family members.
"I remember that moment when the family asked 'Is he going to make it?" The doctor says 'no,'" Calderón said. "It wasn't until I translated the word no — it's the same word as it is in English — but it wasn't until I said no that they reacted, and that was a really impactful thing.
"It's something that will always stay with me, and I will always remember how important it is to interpret and how important the words that I'm interpreting are."
Copyright 2018 The Lawrence Journal-World. All rights reserved. This material may not be published, broadcast, rewritten or redistributed. We strive to uphold our values for every story published.