Photo Gallery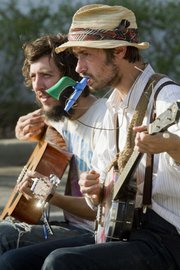 2011 Farmers' Market opening day
2011 is the 35th year of the Lawrence Farmers' Market.
Grab the kids and the dog — it's time for the Lawrence Farmers' Market.
In what's become a Lawrence tradition during the past 35 years, the market at 824 N.H. opened for the season Saturday.
Shoppers casually strolled among dozens of vendors, who were selling everything from free-range eggs to pork skins to stout-flavored cupcakes.
"It's just fun to look around," said Ryan Ramey, who was out doing a little shopping with his wife, Jordan, and 14-month-old son, Matthias.
Lawrence residents Erin Frykholm and Dale Dorsey are regulars at the market, and stopping by has become part of their Saturday morning routine. Frykholm said she usually doesn't buy much, except for some barbecue sauce from Cook's BBQ.
"We usually come for the atmosphere," Frykholm said.
Market organizers said they saw a record number of vendors this year for the market, which is open every Saturday from 7 a.m. to 11 a.m. through September, then 8 a.m. to noon until Nov. 19. The Tuesday market, which runs from 4 p.m. to 6 p.m., opens May 3 at 1020 Vt., while a Thursday market opens May 5 at 4931 W. Sixth St.
While it's still early in the growing season, vendors offered spinach, lettuce and plants, along with meat, eggs, honey and bread.
Saturday's shoppers were treated to warm weather, sunny skies, and a nice breeze. For Sus and Chris Kramer, who brought along their very social pug, Ninnah, the conditions and atmosphere at the market gave the couple a good start to the weekend.
"We both had a long week," Chris said. "We decided we're going to have a fun Saturday."
Copyright 2018 The Lawrence Journal-World. All rights reserved. This material may not be published, broadcast, rewritten or redistributed. We strive to uphold our values for every story published.