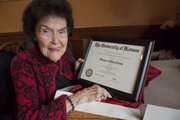 Margaret Shirk knew she was in for a nice lunch at Teller's on Friday with family, but she didn't know the reason.
More than seven decades ago, she walked down the hill at Kansas University's commencement ceremony. But for some reason she never went through the motions to actually apply for graduation and get her degree certified.
On Friday, the 93-year-old Lawrence resident got the degree, if a few years late.
"What could I have done with a diploma?" she asked Friday, saying she already had a good job — she went on to have a long career as a stockbroker and has been an investor since she was 13 — and was busy taking care of her kids and keeping stats for her husband's basketball team.
This process toward actually securing a diploma began when she mentioned something about maybe seeing what she needed to do to complete her degree, and Jim Yonally, a former state representative and Shirk's son-in-law, overheard and called up to the College of Liberal Arts and Sciences and asked what she needed for a degree.
Shirk thought she still needed to take a class or two. Maybe they would let her take a correspondence class, she thought.
And she already acted like an alumna, having volunteered for decades for the KU athletics department, the alumni association and the endowment association.
But, as it turned out, Shirk had already done all the hard parts.
Bailey DeReus, graduation adviser for the College of Liberal Arts and Sciences, was the one who verified that she met the requirements for her bachelor of arts degree in economics.
DeReus had to dust off the course catalog from 1932-36 to ensure that Shirk met all the requirements. Her paper transcripts were still around. But some work needed to be done to convert her courses that could be loaded into KU's online system.
"It was really exciting to figure out," DeReus said, adding that because she met all the requirements, "I think she should definitely have that degree."
Tuition has gone up a bit — it was $2 per credit hour for a Kansas resident back then, DeReus said. It's $262.50 per hour for a resident who entered in fall 2010.
DeReus guessed that Shirk just didn't go through the application process for a degree, though it's hard to say what that might have entailed in 1939. Shirk, for her part, didn't remember the exact nature of the glitch either.
"I really don't deserve it because I didn't have the sense to go get it," she said.
Her family and the university disagreed.
Whatever the glitch was, it's fixed now, and KU added Shirk's name (Margaret Lewis, actually, her maiden name) to its list of graduates from 1939.
She had a good time back then, she said. She wasn't in a sorority, she said, but she went to all the dances. James Naismith performed a wedding ceremony for her aunt — Shirk was the flower girl.
She had season basketball tickets — and still goes to all the home games.
Shirk won't be walking down the hill again — she could physically do it, she's quick to point out, but there's no need. She already did it once.
On Friday, she read cards of congratulations from friends and relatives.
Yonally mentioned his son had a hard time finding a good card.
"They were all out of 'Happy Graduation, Grandma' cards," he said.
Copyright 2018 The Lawrence Journal-World. All rights reserved. This material may not be published, broadcast, rewritten or redistributed. We strive to uphold our values for every story published.